While "Ron & Tammys" wasn't as good as last week's premiere, it was still a very enjoyable episode.
First, the good: Leslie, and although she wasn't in the forefront as much as I would like, Amy Poehler shows why she was nominated for an Emmy. One of the (many) reasons why I love Poehler as Leslie is the amount of subtle comedy she can bring to a scene. No words are necessary, and this episode was a prime example.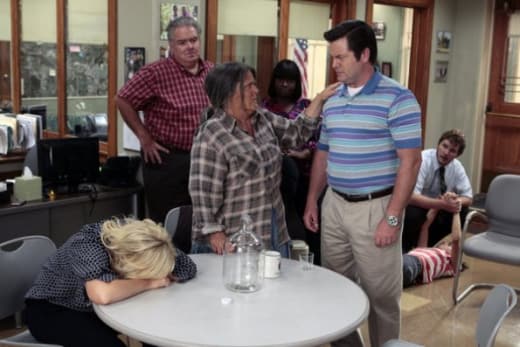 Leslie's naming of the mission to bring Ron back to his former self were hilarious. After coming up with a one, Leslie would sometimes sneak a glance at the camera and smile, showing how proud she was of the name. I loved it.
But, in all honesty, Leslie's attempt to get Ron back by trying to outdrink the Tammys was the best, as was her progression to being completely smashed. I was thoroughly enjoying how Leslie lost any ability whatsoever to string together a sentence at the end.
As for Ron, I think this was the closest we'll ever witness him get to a midlife crisis, and to be truthful, it was a little scary and weird... but it was still funny. Thank God Ron didn't pull up to the Parks Department in a hybrid while wearing his brightly colored polo because we might have lost him to Tammy 1 for good.
Of course, Ron's level of Godliness can't dip down to humanity for too long and he quickly righted that with his incredibly high tolerance for what seems to be the deadliest homemade hard liquor on the planet. You know, the usual drink for a Swanson.
And for the bad: I find Entertainment 720 and Tom to be too over the top. It was not funny and it always ends up making me cringe more than anything. Unfortunately, Ben was saddled with this dumb side plot and except for a few lines such as "I would guess that they would be bankrupt by the end of this sentence" I was left with a "seriously?" look on my face.
Someone else who was too over the top? That would be Chris. It would be nice to watch him be normal for a nanosecond (or was that the point of the stain on his shirt?) instead of a caricature perfectionist.
Thankfully, the side plots were quickly over and we were left with the much more enjoyable Ron and Leslie. Hopefully, in the coming weeks Parks can streamline the subplots or retire them all together because the show works best when everyone is playing together in the department.
And, with that, I leave you with the funniest Parks and Recreation quotes from the week!