Just as I really got into Combat Hospital, it's over. "Do No Harm" was the season finale and it left us with plenty of compelling storylines to consider.
As I watched this episode, I sincerely hoped this wouldn't be the last time I saw Luke Mably's Simon, as it's questionable whether the series will be picked up for a second season. I wasn't sure how much potential this character had when I viewed the pilot, but several weeks later, I only want more.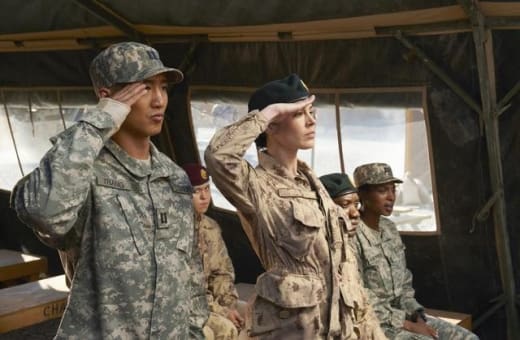 Simon was simply adorable as he tried to do the decent thing and not take advantage of a vulnerable Rebecca. Of course, it didn't take much convincing from her to push him over the edge. The snippet of a love scene that we got only whetted my appetite for the real thing.
And I couldn't believe Simon picked up a book and pretended to be reading when he opened the door for Graham. It was cute, ridiculous and very funny.
Rebecca and Simon were such complicated characters that any relationship between them couldn't help but be a bumpy and incredibly interesting ride. 
On the other hand, I ended up liking Bobby Trang a little less as the weeks went by. Not that I disliked him, but his attitude towards Susie kind of ticked me off.
And poor Susie. At least the girl went out fighting but how horrifying to watch someone so full of life be transformed into a corpse in mere seconds. Just another reminder that nothing is fair, especially in war.
Again, I was left wondering about the relationship between Marks and Grace. I'm not saying they were ever lovers but they have a closeness that belies a long term friendship and I'd love to know the history between the two.
I wondered how long it would take for Marks to figure out who his mystery patient was. When the CIA operative admitted that their patient was kidnapped while they were working with "overzealous contractors," I couldn't help but think how scary those two words were.
I was glad to see Rebecca's turmoil over treating the man she'd just shot. She told Marks she didn't think she was cut out to be a doctor and a soldier. I'd say the events of the day proved otherwise.

Elsewhere, Araf's story finally wrapped up. As much as I would have liked to have seen him adopted and to start a new life with people who loved him, I knew that the politics might make that impossible. I never realized that Will's wife would also be an obstacle but he was asking for a huge commitment from her and obviously it wasn't something she was ready for. 
That Simon played hero for Araf and his family wasn't surprising. Again, Simon was the character who I wanted to smack one moment and kiss the next. What more could you ask for?
As much as I thought the series started on shaky ground, it grew stronger with each episode and I find myself a fan. Whatever its future, I can say I've truly enjoyed Combat Hosptal.
C. Orlando is a TV Fanatic Staff Writer. Follow her on Twitter.