Has anyone seen my jaw around here? I'm more than positive I dropped it on the floor around here somewhere...
Things came to a definite head with "I am Jenna Hamilton" and "Fateful" and we need to start with that final bombshell: Lacey wrote the letter.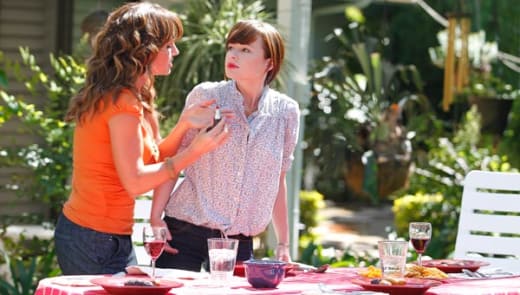 Why would she do something like that to Jenna? The reasons why aren't abundant and I can only think of a few: she wanted Jenna to enjoy and experience high school or maybe this was an attempt (albeit poor attempt) to bond with her daughter.
Whatever Lacey's reasons were for writing the letter, it wouldn't feel genuine if those feelings were still there, especially after the beautiful moment she shared with Jenna getting ready for the formal.
Jenna, you are the best part of me, because you're not me. You're better. That line from Lacey gets me every single time and it's why I believe Lacey wrote the letter from a place of love, however screwed up that place of may be.
Moving on to Jenna and her love triangle, a side was finally chosen: Jake. I honestly thought Matty had the whole thing locked up, but I'm not disappointed that Jenna chose Jake mainly because both are great guys.
That said, there was some definite awkwardness going on between Jake and Jenna after she chose him, something forced. Maybe it was because Jenna was still reeling from leaving Matty heartbroken at the formal. This triangle is far from over. Mark my words.
Speaking of Matty, credit must be given to Beau Mirchoff for giving Matty so much depth and vulnerability. I don't think I've witnessed so many tears from a leading man in a comedy series. We could truly watch Matty's heart breaking all while finding out why he was tiptoeing around Jenna with a formal invite; he didn't want to hurt Jake.
It just goes to show how much of a respectable and moral man Matty is to put his relationship on the line with Jenna, the girl he loves, to make sure his friend's feelings weren't damaged.
Awkward has quickly rocketed to the top of my favorite shows of all-time list and for good reasons: Jenna is relatable, high school is universal, the comedy is funny no matter how old you are, and there's a surprising amount of heart.

While we're looking for my jaw maybe we, can find out when season two premieres?

Other thoughts:
It was about time Sadie got what's been coming to her and kudos to Val for sticking her ground.
"Make sure you wrap up the sausage." If there were ever a phrase for abstinence, this would be it.
I'm sorry I ever doubted the wise readers who believed Lacey wrote the letter.