Revenge was in the air on 90210. But the real tragedy in "Greek Tragedy" was that the episode was NOT entirely about Naomi.
Every scene this character was in was amusing and fun to watch. From the catty one-liners she shared with Holly to the laser pointer to her chic Greek makeovers, she was on point. Naomi was typical Naomi. Oblivious to Ivy's pain, she simply walked away when she saw something more interesting. Like a magpie spotting a shiny object.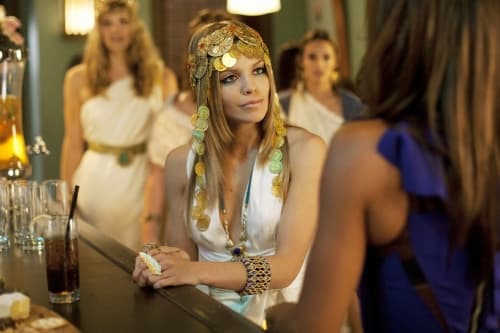 The perfect weapon to wield against her new nemesis, Holly, Naomi made a beeline to CU's big fat Greek sorority, which was all to happy to help Naomi get revenge. And, after Holly's toga stunt, all I wanted to see was Naomi wreak havoc on that beeyotch's busted weave. Especially now that Holly found Max's love letters and intends to use them to bury her. We'll see about that.
It was good to see Millie (Sarah Hagan) from Freaks and Geeks playing... well, Millie. An older, college student Millie, but still Millie. Still nerdy, still borderline Amish. And still the voice of reason. She may have been being used as a pawn by Naomi, but she was going to get hers as well. The enemy of my enemy is my friend.
Annie was hurt that Liam had moved on so quickly after just proposing marriage a week ago. But did I believe for a second she was so crushed? No. Wasn't she flirting with Jeremy last week? At this rate of bed hopping, we should see a few raging cases of herpes soon.
Broke because of the legal battle being waged by Marla's family, Annie had to struggle to find money for her sorority dues. So, of course, that meant she unwittingly became an escort. Shocked at first, she seemed okay with it once she saw the wad of cash.  A scrawny, not too attractive girl becoming a high paid escort. Wasn't that the plot of a Lifetime movie starring former 90210 alum Tori Spelling?
And Jane's pregnant already? Whining about being 20 and a widow and in love with someone who's in love with someone else? Yes, please go back to Alaska. You've already treaded on my last nerve.  By the way Liam, time to lose the Bieber 'do. Bar owner and soon-to-be baby daddy, that look was just way out of sync.
Poor Navid. First his annoying brat of a sister and now his sleazy uncle, Amal. It looked like suffering better be something he gets used to this season. And what exactly crawled up Amal's butt and died? Why the hate towards Shirazi Studios? Navid owed him money but the disdain seemed to be deeper than that.
And why couldn't Navid tell Silver about his uncle blackmailing him? I thought they were such a tight couple.
Dixon created a rave masterpiece that was perfect for Liam's Offshore bar opening. But of course. I loved when the ADD rage kicked in when he found out the infamous Juice Randall didn't show up because of Navid. The histrionics in the coming weeks should be good to watch.
Adrianna, all of a sudden, cared about Liam and his problems. The waitress with the heart of gold. I thought she wanted to redeem herself. And yet here she was again stirring the pot and sticking her nose where it didn't belong.
And a bitter, angry Ivy made an appearance. Ivy needs to start hanging out with a different crowd because if she was expecting a sympathetic ear from the Beverly Hills brain-addled gang, she got a rude awakening. It was understandable that she became increasingly frustrated with them, but did she just meet them? What did she expect? Compassion was not on the menu. Not then, not now. Maybe she should just stick to hanging out with Silver from now on.
The BH clique may be facing more adult problems, but they all have a whole lot of growing up to do. Hopefully the writers let this happen. View the official trailer for next week's "Let the Games Begin" to see if that's the plan.