The Secret Circle at the TCAs: Quotes, Spoilers and More
Matt Richenthal at .
The Secret Circle features high school students hook-ups and love triangles, yes. But it's not just about "teen lust," Thomas Dekker explained at yesterday's Television Critics Association press panel.
Speaking on his character of Adam and Britt Robertson's Cassie, the actor told reporters: "Our attraction is linked to our blood and our ancestry, which is part of the history of the show."
Well said.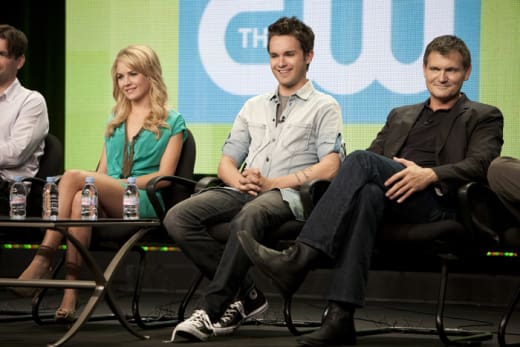 What else was revealed by various cast and crew members? We've summarized the points made and tidbits spilled below.
Producer Kevin Williamson on bringing another L.J. Smith (The Vampire Diaries) novel to the small screen
: "She taps into the stuff that I love, which is sort of growing up, coming of age, teen angst and mixes it with the genre I love. Betrayal, deceit, friendship, lawyer, murder, all that stuff is my happy place and for that I kind of tip my hat to L.J. and say God bless you."
Gale Harold on his character: "He's not just the bad guy, he's a very bad guy. I think [Charles] is very drawn to bringing back something that he thought he had his hands on when he was younger."
Will there ever be a Vampire Diaries/Secret Circle cross over? No, says Williamson: "The worlds don't mix. The witch mythology that's at the core of The Vampire Diaries and The Secret Circle don't connect. And that would kind of limit us. With Secret Circle. we need to start at ground zero and build our own mythology."
Natasha Henstridge on character: "She is a much more dynamic character than I ever originally thought she would be. She does some not so great things and definitely has an agenda but also has a real sort of moral scale in which… she has morals. They're very unusual morals, but they're there nonetheless. Playing the straight-forward villain is far less interesting."
Williamson, on limiting the power of his witches: "That was the big fear. If you can do a spell why can't you just do another spell to make that spell bigger," admitted Williamson. "How do you ground it and make it real and tell this emotional story? The second episode will answer that question."
The producer addressed this same point to me at Comic-Con. Watch that interview NOW and get even more psyched for The Secret Circle.
Matt Richenthal is the Editor in Chief of TV Fanatic. Follow him on Twitter and on Google+.