The Nine Lives of Chloe King First Season Report Card: B
by Carissa Pavlica at .
After a shaky start, The Nine Lives of Chloe King delivered fun and daring stories to viewers, along with one of the most passionately debated love triangles on television. The season as a whole earned a solid B, but I'd bump that grade up if we could just focus on the final few installments.
Let's take a look back at the new show, highlighting the best (and worst) of season one...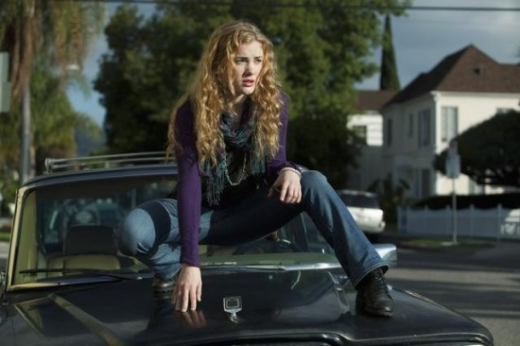 Best Character: I'm going to take some heat for this one, but... Paul. His consistency in being funny and "there" for everyone is a gift we should all possess. Plus, Ki Hong Lee has amazing line delivery and can deadpan even the goofiest of moments. 

Best Episode: Without a doubt, "Beautiful Day." The finale offered so much for viewers to chew on, and did so without a net. We may never know what happens, and with so much hanging in the balance, it was a pretty daring choice on the part of the show.  Runner up was "Green Star," and the introduction of Jasmine's mom, Valentina. Their part in the finale was phenomenal. 

Worst Character: Zane. He ruined everything. His apparent hatred of his brother and disdain for his own race set in motion a series of events from which we may never recover. I wish there had been something to like about him before his true colors were revealed. As it stands, there is nothing they can do to redeem him, which might have been an option as Alek's brother.

Worst Episode: "Girls Night Out." The introduction of the Mai cousins from South America did nothing to move the story forward. Best moment of the worst hour was Paul's gift of himself Amy. 

Best Storyline: Any time we learned something new about the Mai. Unfortunately, that was a story left buried for most of the season. Information was given out in doses far too small. All of the events along the way happened because Chloe was Mai, but we never really got a feel for what it means to be Mai. 

Worst Storyline: The introduction of Frank's daughter as an unwitting victim, which then drew him out of Meredith's life. Their relationship fleshed out her character and it was good for Chloe to see her mom happy. Thanks for nothing, Vanessa. 

Alek or Brian: Sizzle or soulmate? That was the big conundrum for Chloe. Being Mai (and the possibility of kissing Brian to death) gave the disadvantage to Brian, but viewers would argue that it was his lack of heat that made them feel the soulmate option was shoved down their throats. I don't think anyone could have imagined Skyler Samuels and Ben Stone igniting the screen as they did. But, as we learned in the finale, you need more than sparks to form a lasting bond. 

Hopes for second Season: That there is one! Yes, there were bumps along the way, but as the season progressed the writers found their footing and went out with one heck of a wallop. Sure and steady, they took us on a ride that deserves to be continued.

Carissa Pavlica is a staff writer for TV Fanatic. Follow her on Twitter and on Google+.

Tags: TV Fanatic Report Cards, The Nine Lives of Chloe King
From Around the Web