On Rookie Blue this week, Andy was certainly taking her lumps when it came to her love life. First, Luke cheats on her and now... well, you know what they say about "Best Laid Plans."  They're known to go horribly, horribly wrong.
That's what happened to Andy's, as she tried to build her future, one carefully planned step at a time.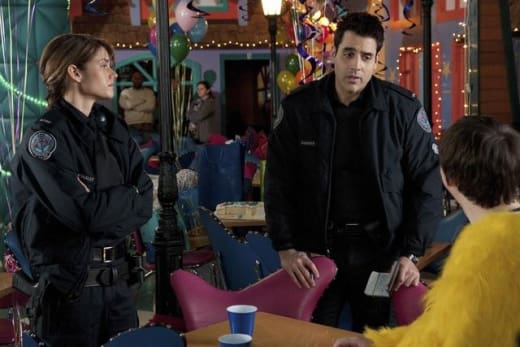 You could tell that Swarek's plan to go back undercover shook her. Was he doing it because he loved the work or to get a reaction out of Andy? I'm guessing a little bit of both. Or perhaps working so closely with her day in and day out was just becoming too much for him.
I figured the car accident victim wasn't going to make it and it would push Andy to make some changes in her life. I just didn't think she'd call Sam and say let's throw caution to the wind for the next three weeks. As heartbreaking as knowing Sam never heard her message was, I thought it was too soon after her breakup with Luke to jump into things with Sam. I'd hate to see them get together just to have to watch them fall apart.
Elsewhere, what the heck was Gail thinking when she told Chris about Dov professing his love for her? Was she trying to destroy their relationship?
Chris isn't going to let this go and I loved that he knows Gail well enough to say that if she didn't really want the attention from Dov, she wouldn't allow it. 
In Gail's defense, I doubt she even realized that she had feelings for Dov until his confession - and now she's spinning out of control. What made it worse was that they all live together and work together. It's like a giant pressure cooker ready to blow and I'm not sure who will survive the fallout.
So Jerry's trading in the sports car for a sedan? It was a sweet gesture but I found it a little sad. Perhaps because I'm a sports car person.
As far as actual police work went, I enjoyed watching Gail and Traci break chicken man. He really was an idiot. And Ollie was the perfect cop to head the investigation and search at the kid's party place.
I also liked that they didn't have Dov go all CSI on us with the video footage. Unless you've got top of the line HD equipment, most of that stuff looks grainy and odd or as Ollie described the suspect:
Whitish green guy, medium build with a blurry complexion. | permalink
Yup. That sounds about right.
In the end, Andy learned that you can't save the good stuff for later because later isn't guaranteed to any of us. And as cruel as it was to dangle the Sandy carrot in front of fans, I am grateful for one thing: With three more episodes left this summer, we still have hope.
C. Orlando is a TV Fanatic Staff Writer. Follow her on Twitter.