A naked, dead man in the shower is never a good thing. Luckily for us, though, it simply kick-stared of another great episode of Rizzoli & Isles.
"Don't Hate the Player" gave us a murder with twists and turns, a family conundrum, and lots of very close friend moments between our favorite doctor and detective. But let's start with the body.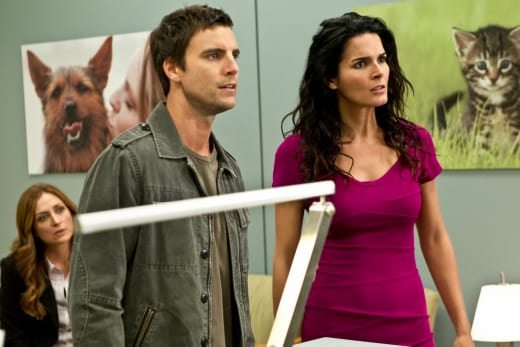 Ron McKenna tried to do the right thing by helping Manny Vega, only to get slammed in the head with a bat. When his son came down to talk with Jane, the man suddenly went from being a wet dead guy on a shower floor to a human being who would be missed. I normally don't expect much from scenes like that, but this one swayed me.
They had me believing that Manny Vega was simply a drunken, arrogant ass. The poisoning was a great twist that I didn't see coming. But from the way he tried to intimidate Jane in the parking lot, my guess is he
was
still an arrogant ass, just minus the alcohol.
Then we had Jesse, the actual killer. Damn, Jane was right. It takes balls to charm the homicide detective who is investigating the murder you committed with an expensive french dinner. I liked that because, again, I didn't see it coming.
I could have lived without the needle in the eye scene. Thank God they didn't show it. I freak out over eye things and it would have sent me running from the room. Hard to review a show that way.
On to the family problems: I was most happy for Angela that Tommy didn't rob Maura's home. It would have really broken her heart. Angela needed to believe the best about Tommy. On the other hand, his siblings might want to believe the best, but they're better prepared for the worst.
Still, Tommy definitely has some serious anger management issues to deal with. The vet bill may have been outrageous... but threatening the man was a bit extreme. It made me wonder how long Tommy can keep himself out of jail.
Did you notice all of the touchy feely friend moments Jane and Maura had this week? First, they were curled up on the couch together watching the ball game. Then they were practically undressing one another in Maura's office. And talk about a good friend. Not just anyone would disfigure an expensive pair of heels for someone, but Maura took scalpel to shoe without hesitation. 
The last scene mixed both family and friends for dinner at Maura's. It showcased this cast's great chemistry, which keeps getting better every week. That chemistry, along with fun, twisty stories, are what makes Rizzoli & Isles a joy to watch each week.
C. Orlando is a TV Fanatic Staff Writer. Follow her on Twitter.