Full disclosure: I hate rap music, and I cannot understand for the life of me why the industry would name their associated companies Death Row Records or the fictional Shanked record label of "Unknown Trouble."
It makes it very difficult for me to believe that anyone has good intentions under those strange circumstances. And, yes, it does color my take on the case of the episode. I can't understand why two good kids would want to disguise themselves as gangsters, especially kids Gabriel said came from a good family. Why get caught up in a world that could so easily tear you down?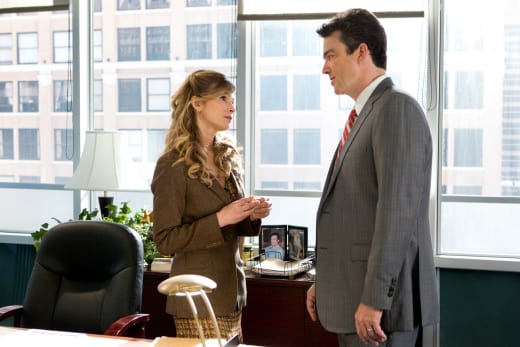 More important than the case was the undertone of distrust and organized chaos taking place in the LAPD, Major Crimes in particular.
After what seems like eons, the new organization of the LAPD still isn't complete. Chief Pope found an organizational chart that showed him as Captain of Traffic and Commander Taylor as the new Assistant Chief, among other surprises. I can only imagine what this would to the department.
There is one thing for certain: Brenda lost her passion for the job. Quitting was on her mind. She mentioned it throughout the episode, and when I think back to how much she used to lover her job, it really brings me down. Who knew some place could suck the life out of spunky Brenda Lee Johnson?
Brenda was also being investigated because of the incident that occurred in "War Games" last season. If you recall, when unable to successfully prosecute a man everyone knew was guilty, Brenda gave him a ride home when he asked. This lead to his murder, and to a plethora of viewers questioning Brenda taking the law into her own hands.
I was one of the few who undoubtedly would have done exactly what she did. At what point do you let the bad guys get all the protection and the innocent none? He made his own choice to be a part of a gang; was the LAPD supposed to protect him for life because of that? It turned out that the case in "Unknown Trouble" had the FBI doing essentially the same thing with those involved, but with full support. That made the investigation even more confounding.
Brenda was in such a hot seat that she was virtually unable to do her job. Every step she took was being scrutinized, and it it made her angry and frustrated. The investigation and the intentional scrutiny of her work didn't do anything to breathe enthusiasm into Brenda's attitude.
Nothing in the show really meant anything at all. In the end, Chief Delk was thanking Brenda in front of the entire squad and suffered a stroke (I'm no doctor, but based upon the symptoms, that's my guess). Just as it seemed that things were moving on in copacetic manner, all the balls were tossed in the air and if he doesn't make it, that organization chart means nothing and we're back to square one.
Frankly, I love The Closer, the cops are like family to me after all these years. But watching an entire season of "who's the boss" doesn't tickle my fancy. I hope whatever happens within the LAPD and Major Crimes unit is resolved quickly.

Other notes:
Remember when Taylor and Pope were partners in crime? Things really have changed.
I still can't decide if I like Raydor or not. Sometimes yes, sometimes no. I know there is a heart in there, but she does a damn good job hiding it.
Did I miss when Taylor got the promotion to Asst. Chief? I remember Brenda vying for the job, but it completely escaped me that Taylor was her new boss.
Something is going on with Gabriel. He is an altogether different man than he was two years ago. His racial profiling is beginning to wear under the assumption that everyone on the squad wants to point the finger at people of color. I hope we discover his motivation before the series' end.
It always amazes me that people being interrogated on television go off and scream a confession. Is the power of passion really that easy to fall under? Frankly, I hope I never find out, but I really don't believe someone sitting quietly across the room from me could push my buttons so far that I'd actually give away my life so simply.
Carissa Pavlica is the managing editor and a staff writer and critic for TV Fanatic. She's a member of the Critic's Choice Association, enjoys mentoring writers, cats, and passionately discussing the nuances of television and film. Follow her on Twitter and email her here at TV Fanatic.