Rookie Blue did it again.
For the second time this season, the show managed to surprise me. I was expecting some suspenseful moments in "Bad Moon Rising" - I thought we'd see Luke in jeopardy, trying to talk down a suspect that was after Andy - but when those shots were fired, I was in shock.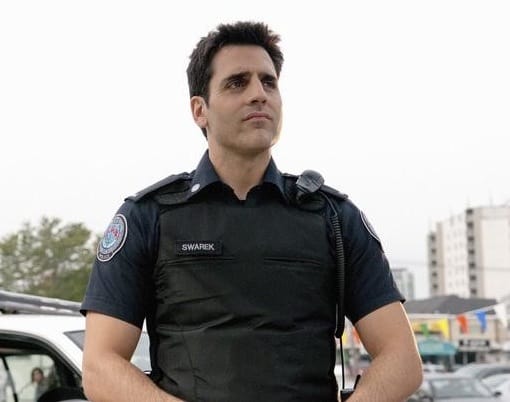 I also loved how they filmed it. Luke didn't fall to the ground immediately. He stood there, gasping as the blood started to drain from his body, as the pain took over. He then fell to the floor, unable to do anything as his shooter walked past him.
The investigation that got us to that point was creepy fun. A schizophrenic off his medication, carrying around a bag full of severed heads in the trunk. What more could you ask for? Even Luke was envious that Jerry caught the case.
Hey, how'd you get so lucky
.
Elsewhere, Dov and Gail's contentious relationship continued. I liked that Gail's the only one willing to tell Dov the truth, but the fact is Dov didn't seem to know how to do the job any other way. As much as these two annoy one another, they always care. Will there be a second love triangle this season or is this simply the start of a wonderfully complex friendship? 
But let's go back and cover the ring: The minute I saw the look on Luke's face as Andy held the ring, I knew it was Jo's. Did Luke really think that didn't matter?  
No girl wants to know you bought the ring on her finger for someone else. Seriously, men! When Andy finds out, it's going to break her heart.
Of course, everyone congratulated her and Luke. Well, almost everyone. Jo looked so hurt and I can't say I blamed her. Even though she turned Luke down, it's horrible to feel like you've been replaced, especially when the guy is using the same ring. Sorry. I really can't get over that.
As Andy described the proposal to Sam ("It was spontaneous and romantic. It's a good thing.") did it sound like she was trying to convince Sam or herself? The latter, I say.
I like Luke, I really do. But Sam and Andy have some intense chemistry. You could see it as Sam slammed on that door until it opened. He was frantic to get to her. Or how about the fact that Andy smiles when she's with Luke, but she laughs when she's with Sam?
Unfortunately Luke's shooting will only complicate matters. I predict Andy will be the doting fiance and help him through his recovery, and, if that final scene is any indication, Sam and Jo will grow closer. 
Oh, Rookie Blue is going to torture us Sam and Andy shippers for a while. As long as they do it well and they give us a good payoff in the end, I won't mind a bit.
C. Orlando is a TV Fanatic Staff Writer. Follow her on Twitter.