Leverage Review: "The Hot Potato Job"
by Jim Garner at .
After last week's emotionally charged flashback episode, we returned to what the team does best on "The Hot Potato Job:" running a con to save the innocent.
With the episode featuring a "super tuber," I had expected the hour to be full of spud humor. Instead, we got a well planned and executed mission that could have had the team going after a diamond, gold, or cash.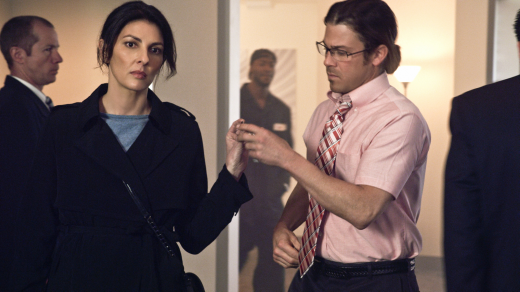 Who wants to start a pool on how long it will take Nate to realize he has truly fallen for Sophie? While he may say he doesn't want a relationship, it was pretty obvious that he likes being "friends with extras" (as Sophie put it). 

For the Eliot fans out there, did you think Sophie did a good job of mimicking his behavior, voice, and mannerisms? I loved it! From the use of "sir" and "ma'am" to lowering her voice and being a bit gruffer, I giggled every time. 

I also adored Parker helping Hardison learn to pick-pocket. Given how Sophie has taught her to con, and Hardison learned the hard way that Eliot has been teaching Sophie how to be a hitter; it was nice to see Hardison expanding his skills outside the tech arena. 

Of course, that didn't stop Hardison from taking on an apprentice in the form of Trevor, the young boy who Nate pegged right away as a trouble-maker. While I doubt we will see Trevor again, I have to wonder if Hardison and Nate didn't just put someone on the path that will lead back to doing what they do. 

I am very curious about the final scene where we learned that Janet West was CEO of Verd Agra now. Clearly, we are going to see her again, but in what aspect? Did the team leave a trail? Is she going to come after them? Will she go after Emily's super spud again?

Jim G. is a TV Fanatic Staff Writer. Follow him on Twitter.

Tags: Leverage, Reviews
From Around the Web