"Provo-cation" threw me for a loop in ways I didn't see coming.
First, Mary gave up her spirit guide?!? I'm ridiculously disappointed by that. I'm sure Marshall and Abigail will take good care of Oscar, but I liked the idea of Mary and her canine sidekick.
Besides, I thought Oscar's goofy, slobbery face looked far happier when he was hanging out at the Shannon residence.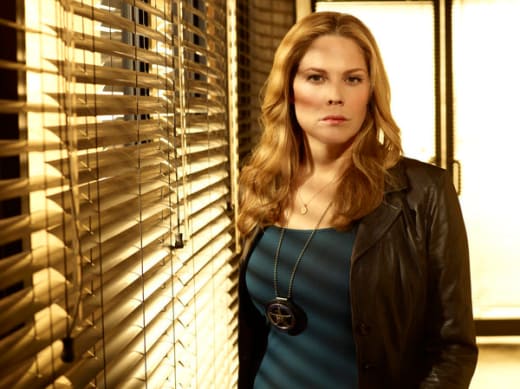 Then, Marshall and Abigail decided to move in together. They've got the dog. They're getting the house. What's next? Can the 2.3 kids be far behind? I like Abigail, but this relationship is moving along faster than I expected and I'm not sure I like it.
I seem to be torn between wanting to see Marshall happy and this irrational desire to see him with Mary, even though the left side of my brain tells me they probably wouldn't work. What can I say? Apparently the heart wants what the heart wants - and mine doesn't seem to want Marshall with Abigail.
The PTSD story was really gripping, although I thought John could have broken through that bathroom door long before Marshall and Abigail arrived.
I suppose I'll give the writers creative license on that one because I'm not sure I want to know what he would have done once the door was down.
The near suicide at the funeral was such a heart wrenching scene and really well played by Joel Gretsch. That man's eyes were so expressive it was hard not to get sucked in.
I also liked that Marshall made Mary stay in the car and, for once, she didn't argue. Perhaps the realities of her pregnancy were starting to sink in.

Major Provo and Mary had some nice chemistry and, although this was a one episode guest spot, I'd love to see him back for more.

Overall, the hour was a little light on humor, but I loved when Mary and Marshall were debating new WITSEC tag lines such as...
Marshall: It's better than Fallujah. That's our new bumper sticker right?
Mary: It's either that or WITSEC: It's not just for mobsters anymore. | permalink
I'm glad In Plain Sight gave us a break from the adoption drama this week via a strong WITSEC-based story. However, with only two episodes left this season, Mary's baby daddy can't be far behind. There's a monkey wrench I won't want to miss.
C. Orlando is a TV Fanatic Staff Writer. Follow her on Twitter.