A new How I Met Your Mother chapter is on the way. This intriguing tease has already been offered by creator Carter Bays.
Now, his partner in producing, Craig Thomas, has also opened up about season seven of the CBS comedy, previewing a pair of season premiere weddings and a new love interest for Robin.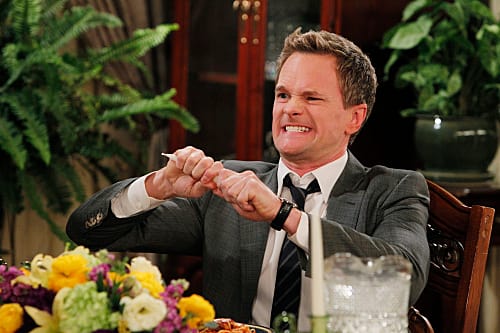 Does Barney really get married? Yes. Says Thomas: "It's not the smoothest wedding day, but it's epic — truly epic... we [also] flash back to September of 2011 when the gang finally goes to the long-talked-about Punchy wedding."
When will we discover the identity of Barney's bride?
"I can't say exactly when it will happen, but we will learn the identity of the person in Season 7."
As for Robin? "Robin's dealing with the fact that she has these feelings again [for Barney], which makes no sense since they dated and it didn't work out... there will be a new love interest for Robin."
Ted will be a ladies' man?!? "We'll see Ted on a bit of a hot streak in Season 7. He's a hotshot architect having his building built in New York City. He's realizing, 'Wait a second. I'm kind of a catch right now.' His stock is very high and he's dealing with the fact that he's very attractive to the ladies at the moment."
Marshall vs. Martin Short: "Marshall will be at his dream job and Martin Short is his mentor and he discovers that Martin Short is the worst lawyer of all time... So Marshall's going to be very torn about whether to remain the respectful protégé or try to take over a little bit.
Head over to TV Guide to read more from Thomas, including his take on the show's final season.