What can beat a good Bachelor Party?
James Van Der Beek guest-starred in the pivotal role of Nathan, Janie's fiance, on "Bachelor Party," which included partying, drinking, porn and hookers. Unfortunately, it also involved getting arrested for solicitation.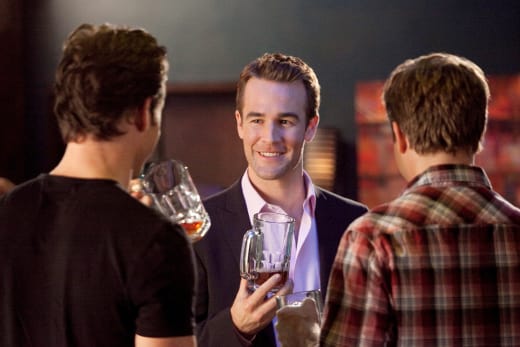 So, of course, who else would he hire but Peter, Janie's ex, to prove his innocence? 
Talk about great casting. Janie certainly has a type. When Peter and Nathan sat together in the hot tub, I had to do a double take because they looked so similar.
I expected Peter to hate Nathan and vice versa, but in a unique twist, the two actually got along. These are both nice guys. Janie has good taste in men.
Unfortunately, she can only keep one of them and I'm torn over what I want to see happen next. 
Peter seemed to believe that Janie was happy with Nathan and encouraged Nathan to take the plunge. But even Nathan saw the spark between Peter and Janie. Can Peter really just walk away?
If he does, that opens up a world of possibilities for future love interests for Peter, which could be a lot of fun. On the flip side, there's a lot of story potential for a Peter and Janie love connection. She's an ADA. Jared's not all that fond of her. That could make for some great continued conflict.
The other half of the Franklin & Bash team had his own issues with which to deal. Jared was defending a cute teacher accused of sleeping with her student. In the process, he was faced with his own high school demons. Apparently, his penchant for getting into trouble was nothing new, as witnessed in this conversation with the school's Dean.
Jared: Every school had cheerleader car washes.
Dean: Where the cheerleaders washed the cars not where you washed the cheerleaders. | permalink
And only on Franklin & Bash would an attorney's knowledge of porn help save his client. I may never look at a flute the same way again.
With only one fun filled episode left this season, what are your thoughts on Peter and Janie? Will he win her back or is he moving on and which would you choose?
C. Orlando is a TV Fanatic Staff Writer. Follow her on Twitter.