Burn Notice doesn't fit squarely into any television genre. And that's exactly why Bruce Campbell, previously best known for the beloved role of Ash in the Evil Dead franchise, signed up for the USA hit.
"I said yes to what it was not," he told me when asked about what drew him to the character of Sam Axe. "It's not a cop show, though there is life and death situation. It's not a legal show, though you are dealing with legal issues... I was attracted to the premise and the flawed characters."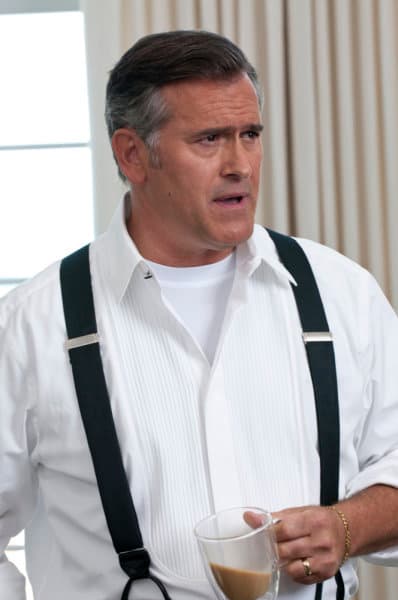 And Burn Notice fans have been attracted right back, making Sam one of the most popular characters on TV. Still, Campbell is often remembered best as Ash, a fact he fully accepts.
"I didn't create it," the actor says of the phenomenon of that role, which includes the occasional Ash tattoo he's asked to sign under. "These are the imaginations of individuals. I'm just an actor. You wanna leave something that's as memorable as possible that people can watch. I'm glad to have done that before and we hope to create that with
Burn Notice
."
Can he reveal any spoilers regarding Sam and what's ahead this summer?
"There's some unfinished business that has to get wrapped up," he teased. "Sam will have issues with the CIA due to the TV movie. The guy has a history and it's come back to bite him in the ass."
Forget that history, though. Fans want to know about Sam's future. Would Campbell be up for a spin-off?
"If they set it up the right way, sure. If they had him doing wacky adventures and everything, I'd do it."
Matt Richenthal is the Editor in Chief of TV Fanatic. Follow him on Twitter and on Google+.