There are only two words that come to mind to describe this week's episode of Burn Notice: Holy Frak!
While I wish "Bloodlines" had been the season premiere, I'm thrilled that everything I felt was lacking last week returned here in full force, bringing new stuff with it.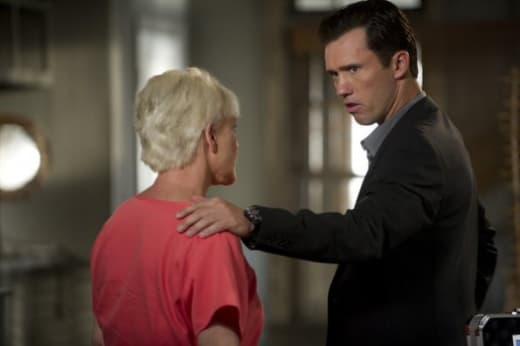 Several people commented on last week's review about Michael calling Fiona his "girlfriend." Fast forward to last night and I was in complete shock when Michael showed Fiona the board shelf and asked her to move in.
My wife swears she "just had something in her eye" while watching this scene, but hers couldn't have been the only tears of joy cried last night, right? I'm certainly ready to finally sit back and enjoy the ride between these two. We've waited four years for this and I don't want to miss any of it!
It was also great to see Jesse for more than a cameo. I wondered if he was going to be a hook for bringing Michael new clients, and at least for this week, he was. I was really hoping we would learn more about why he left the government; but, I also like to rattle my presents on Christmas Eve to try and guess what they are, so clearly I am not a fan of waiting and want all the answers now.
It was scary seeing Madeline so shaken, and heart-breaking to watch Michael try to hold it together seeing how much it was hurting him to use that card on him mother. But maybe it will be good for them to get it out in the open and work it out.
The hardest part for me in this episode was watching Madeline and Michael reopen old wounds, as the latter had to use the one thing that he knew would upset Madeline the most. We don't know that much about Michael's father. In fact, aside from an occasional mention, last week was the first time Madeline really spoke about him in two seasons.
She nailed it when she said that they needed to stare down the past and deal with it. She was also right about the past making us who we are. If you like that person, maybe you can forgive how you got there, even if it was less than ideal. 
Thankfully, the seriousness of Michael and Madeline's acting was offset by Fiona's awesome ability to actually scare a man celibate (or at least monogamous). If I'd been eating some of Michael's yogurt when she started driving with her eyes closed, I might have had it coming out my nose!
Finally, for only the second time ever, this episode saw me give a show a perfect rating. It had a ideal balance of humor, action, drama, romance, and heart.
In honor of Michael, rate this installment on a scale of yogurt cups now!
Jim G. is a TV Fanatic Staff Writer. Follow him on Twitter.