White Collar Gets Personal for Willie Garson: Exclusive Interview

Christine Orlando at .
On tonight's new episode of White Collar, titled "Dentist of Detroit," we learn some intriguing information about Mozzie. 
The story dives into this quirky character's backstory and it's a narrative that is significantly personal to portrayer Willie Garson.
"There's a great episode coming up about Mozzie being a foster child who was never adopted," Garson told me during my set visit. "It's a really great, very special episode and I had an idea: Let's do a PSA about foster care and adoption because my kid was in foster care and was adopted."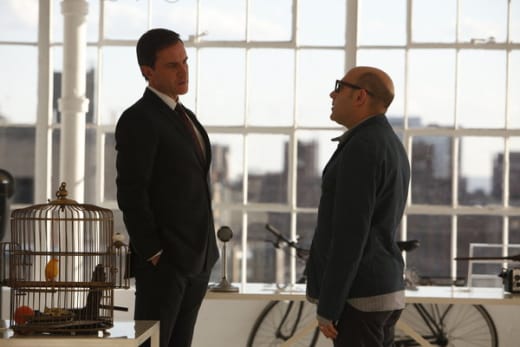 Garson met his son, Nathan, at an adoption fair in Los Angeles. Such an event is where children eligible for adoption mingle with prospective parents.
"My kid was in foster care and was adopted and so I brought Nathan out and we shot the PSA. It's going to air after that episode," the actor said.
According to the latest information, there are approximately 115,000 children annually in the foster care system, all in need of new homes.  The AFCARS (Adoption and Foster Care Analysis and Reporting System) reports that less than half of those are adopted.
The children in foster care range in age from newborns all the way up to 21 years old, with the average age being about seven. That was the age of Garson's son when they met; the adoption took about one year to be finalized.
Garson is obviously excited to bring attention to this cause. The PSA is "going to be very cool," he said. "We shot a version with the whole cast and Nathan and there's another version with just me and Nathan which I think airs after the initial airing."
C. Orlando is a TV Fanatic Staff Writer. Follow her on Twitter.