As previously teased, I was fortunate enough to visit the sets of Covert Affairs and Suits last week, the latter of which I'm absolutely in love with, in case that wasn't already apparent!
Following our lunch in the Affairs and Suits production offices, we were taken to a different sound stage where Vanessa Chiara, the production assistant on Suits, walked us through the looming sets used to depict the stylish legal offices of the fictitious Manhattan law firm Pearson Hardman.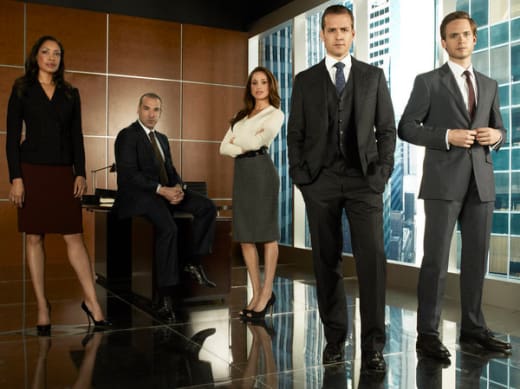 My mouth was agape when we entered the brand new law library set. It was lined on either side with row after row of prop books, as we ventured down what appeared to represent a catwalk that opened up to a landing where there were two tables set up before a desk. We later learned this was arranged for a mock trial in which Patrick J. Adams' character, Mike, will be participating.
It was so detailed, there were even legal pads with scrawled notes relating to the case being tried.
We then visited the offices of Harvey Specter (complete with a bottle of Bombay Sapphire Gin at the ready!), Louis Litt and Rachel Zane before making our way to the cubicles where Mike performs his legal duties. (The set photographer who was along with us took my photo in Mike's chair. Sadly, I didn't have it in time to post with this article.)
As we were finishing up the tour, we were quickly whisked off the set because some of the actors had arrived and were doing a read through nearby. I turned back just in time to catch a glance Adams seated at one of the tables, directly across from Anna Espinosa herself, Gina Torres, sitting in the position of judge.
At that point, we were ready to start conducting interviews with the cast, starting off with Gabriel Macht (pictured), who didn't have a call time to the set that day. He stopped by just to meet with us! Macht carried himself with a warm, yet relaxed demeanor and answered questions with impressive eloquence and thought. As he accurately indicated to us during his interview, he's nothing at all like Harvey Specter.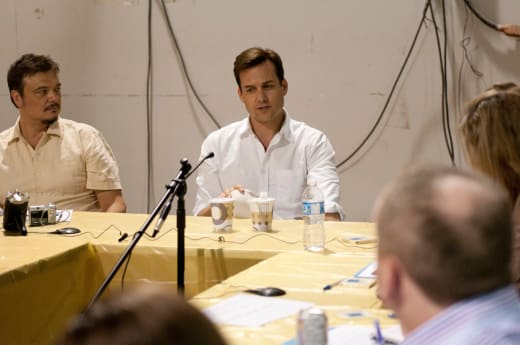 Soon after Macht left, we had a chance to sit down with Sarah Rafferty, whose wit and comic timing are exactly matched to her character, Harvey's assistant Donna. It is impossible not to be drawn to her.
Referring to Donna as having been with Harvey before there was a Harvey, Rafferty was drawn to the role of Donna because she is "comfortable in her own skin and in her own position at the firm" and agreed when it was suggested that she's something of a female Harvey.
"I think she could be," Rafferty said. "She [also] operates really from a place of compassion and empathy. I think she has that for Mike, but doesn't necessarily want Mike to know that."
She also loves the fact that Donna is "very feminine but she can be one of the boys and still have all the fun of being a girl." Speaking of Donna's wardrobe being a strong indicator of who she is, Raffery said: "[Our costume designer] Christopher insisted she wear fishnets... I don't know hosiery, but he [made me] put them on and I was like 'Oh, I get it.' She's a girl who wears fishnets to the office in an elegant way. It was really cool."
Rafferty indicated to us, as well, that in the episode where Mike will be trying a mock case, Donna will have more interaction with him because she will be serving as his star witness.
Rick Hoffman - who plays the devious, ethically-ambiguous Litt - stopped by shortly after, and what a pleasure that was! More than once during our discussion with Hoffman the room erupted in laughter. A far cry from the character he plays on the show, that's for certain.
Unfortunately, timing factors prohibited us from meeting with Torres. But Adams and Meghan Markle did pop in for about two minutes, only to be called back to filming. I did get to interview Adams on the phone yesterday, though.
Thanks again to USA Network for its generous invitation and to everyone on the Suits set for making me feel very welcome. Tune in to the season premiere tomorrow night at 10, readers. You'll be glad you did.
Jeffrey Kirkpatrick is a TV Fanatic Staff Writer. Follow him on Twitter.