Tara Thornton will be "taken on a journey she never dreamed possible" on season four of True Blood.
So Rutina Wesley told me in an exclusive interview this week, a statement that becomes even more intriguing when fans consider this juicy series spoiler.
What else can we look forward to from Tara? Will her luck in the love department change? The actress delved into these topics and more in a revealing Q&A...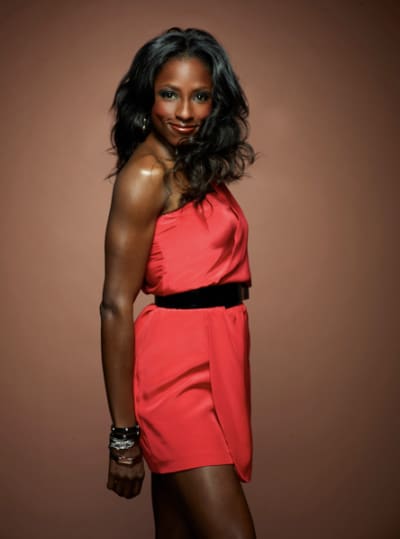 Let's go back before we go forward. Talk about your scenes with Franklin Mott. What kind of toll did they take emotionally?
These scenes were very emotionally challenging, but that's the kind of work I like to do as an actor. I like to be challenged mentally and physically. Working on True Blood has given me both of those things and it has been a dream getting to play this role because they constantly keep my juices pumping as an actor and I have to ultimately dig deeper each season.
Working with James Frain was amazing because he is so good at his craft that I had to be on my toes and I was challenged by him in the way that every actor wants to be challenged. We had to make light of some of the situations in order to keep our own sanity; otherwise it could drive you crazy, not allowing yourself to laugh at the ridiculousness of being tied to a toilet with flowers duct taped to your hands.
What is in store for Tara on season four?
We will see Tara in a whole new light. She's stronger, fiercer, and has learned how to love herself. She's calmed down a bit and we will find out what she's been up to. But eventually she will be swept back up into the world of vampires and taken on a journey she never even dreamed possible.
Will Tara ever find true love?
That is the million dollar question. We shall see if she is ready or not.
Talk about working with Anna Paquin.
Anna is my girl. She has been lovely to work with. She is very generous as a scene partner and she has my back. I enjoy all our moments together because we actually get along really well on and off set and it makes work so much easier and our connection on-screen that much stronger.
Do you get made fun of on set for portraying one of the only non-supernatural characters?
Nope. I actually enjoy being human. The human reactions to this crazy world is where all the drama lies and that makes for good TV.
How familiar are you with the books?
I read the first two books - but because they changed my character so much [on the show], I didn't feel the need to carry on. I also like to be surprised with what they have in store for my character. My mom. however, has read them all and she loves them.
Wesley and the rest of the True Blood crew return with new episodes on June 26. Watch the first eight minutes of the premiere NOW!
Matt Richenthal is the Editor in Chief of TV Fanatic. Follow him on Twitter and on Google+.