SPOILER WARNING: The Secret Life of the American Teenager airs a significant episode on Monday. You can read about the events ahead on it HERE, first learn about them below... or wait until the hour airs to be surprised.
TV Fanatic took part in a conference call with stars Francia Raisa and Ken Baunmann this week. During it, the actress and actor addressed the major development to come for their characters: the death of Adrian's child.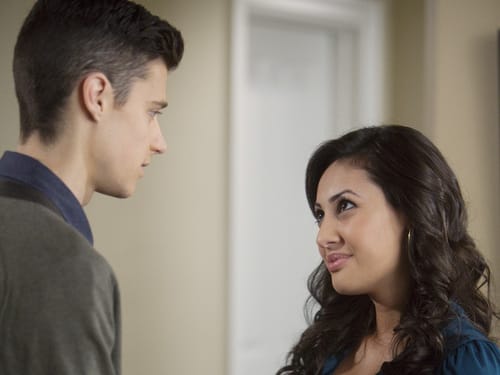 "Adrian was really just all about having this baby," Raisa said. "Her whole life revolved around it right now. She's had a baby shower, she is getting married, she is starting a new life, and then for all that to be just be crashing down and I mean, there's no baby now, so, it really affects her. It affected me as well to shoot the episode. It's something that I'd hope never to witness again."
How will the loss affect the dynamic between Adrian and Ben, Amy and Ricky? Baunmann chimed in:
"I's a pretty tricky situation, but I would say that it both kind of settles any disputes or conflicts they have just temporarily because everyone kind of bonds together in grief, paradoxically enough. But at the same time, once Adrian and Ben are trying to recover, it gets pretty nasty.
"And naturally, you're going to have two people who are stricken by grief, and they're going to look to make themselves feel better, and that may involve trying to reach back into the past, and go back to how it was once was, and reignite old loves and all that stuff... it gets even more convoluted, but temporarily, like I said, everybody comes together in this tragic event."
Return to the site for a detailed review of this episode as soon as it concludes on Monday.
Matt Richenthal is the Editor in Chief of TV Fanatic. Follow him on Twitter and on Google+.