The season premiere of Rookie Blue surprised me. I love it when that happens?
Seriously, did anyone out there expect Kate's blood to splatter across Andy's face? Or Andy to take a bullet to the vest? Me neither.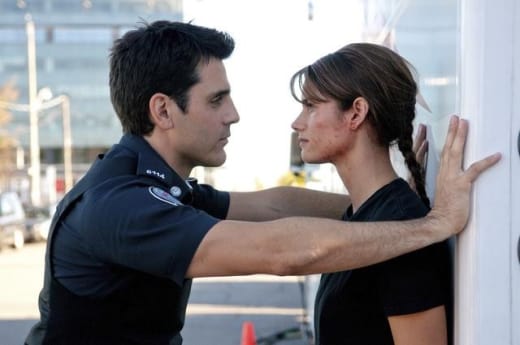 Overall, I'm not alone in considering Rookie Blue to be the lightweight Grey's Anatomy of police dramas. After watching "Butterflies, I still believe that - but I mean it as a compliment. 
As season two began, the characters appeared more focused and the relationships more complex. I appreciated Andy's reaction to Kate getting shot. Her first response was to virtually ignore the bullet she took and to tell everyone that she was fine. 
Sam's reaction was perfectly played. He couldn't figure out whether to hold, kiss, or just walk away, grateful that Andy was alive. Each emotion played out over his face as he touched her, trying to convince himself she was okay. Then he spotted a suspect and immediately slipped back into cop mode.t. 
His feelings for Andy were running just below the surface. How long do you think it will be before this triangle heats up again?
Then there's newcomer Jo Rosati, who fit in well as Luke's jealous former lover. She was all business. Now that she'll be joining the team, we'll see what kind of complications she'll create for Luke and Andy's office romance. And how will Andy handle it when Rosati's eyeing Sam? Does that love triangle become a quadrangle? Ben Bass hinted as much.
The opening scenes told us that Luke and Andy have now moved in together. The latter felt as though all was right in her world both personally and professionally. "It's different now," she said. "It's like I know where everything belongs." No that lasts very long.
Across town, Gail and Chris were shacking up, much to fellow roommate Dov's discomfort. Three's definitely a crowd when sharing one bathroom.
Dov's backstory about his brother Adam's suicide gave Gail new insight and understanding into his character. I look forward to see how this trio deal with both working and living together. 
Rookie Blue's and its soapy summer goodness, wrapped in a police drama, are back, folks. Hopefully season two continues as strongly as it opened.


C. Orlando is a TV Fanatic Staff Writer. Follow her on Twitter.