A trio of outstanding performances highlighted this episode of Nurse Jackie.
I gave up expecting any storyline development on this show awhile ago, mostly watching it these days for the humor of Zoey and Coop. But their one-liners weren't the reason "Fuck The Lemurs" was probably my favorite installment of the season.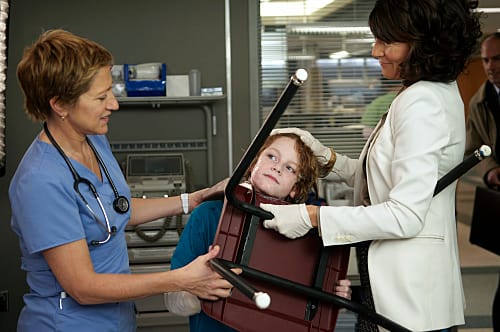 Instead, all credit goes to Edie Falco, Eve Best and Ruby Jerins.
The Emmy-winning former Sopranos star has been fantastic in this role since the series premiere, of course, but she displayed an especially vulnerable side this week. It's grown pretty easy to dislike Jackie over the past few episodes, as she lies to friends, continues to pop pills and displays few redeeming qualities all around.
But it took a crisis at home and at the hospital for her to finally break.
Falco reminded us that she's playing a legitimately troubled woman when she struggled to deal with Grace's anxiety, confronted O'Hara and then listened as O'Hara explained that she's known all along about her friend's problem. That latter was one of the best scenes in show history.
O'Hara made perfect sense as she told Jackie that she never said a word because she held out hope that, someday, her friend would seek assistance and she didn't want to burn Jackie's final bridge in case that day ever arrived.
Jackie was stunned to hear those words, shocked that her secret was out, but maybe even more shocked that someone cared so much. It's something I wished the show would address: how did Jackie get this way? She is unquestionably loved by both O'Hara and by Kevin. Does she really not see that?
Elsewhere, who could be anything but moved by Grace's speech at the end? Her anxiety issues received more screen time on season two than they have on season three, making the move to medication here seem a bit random. But I don't want to nitpick. Jerins nailed the final scene with Falco.
I'll take a lack of action or movement any Monday night when I'm treated to stellar performances that hold my attention as these did so well. What did everyone else think of the episode?
Matt Richenthal is the Editor in Chief of TV Fanatic. Follow him on Twitter and on Google+.