The folks at TNT tell us in almost every promo: they know drama.
And that was evident at yesterday's Upfront in New York City, as technical difficulties befell the network's presentation of its summer and fall schedules. Still, TNT was able to announce confirm a spin-off of The Closer that will star Mary McDonnell, along with other programming notes.
TV Fanatic staff writer Christine Hinton was on the scene and filed this report...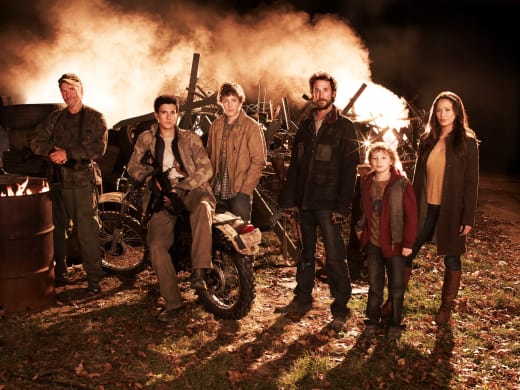 What's the worst that can happen at an Upfront event? How about the video screens go dark as you try to show clips of your new shows to ad buyers?
Seriously, folks. The TBS/TNT Upfronts turned into a comedy of errors as it was plagued by technical difficulties and excruciating dead spaces. We're talking 10 to twenty minutes of nothing but advertisers and media chatting amongst themselves, taking bets on who was getting fired behind the scenes. Then, things got interesting.
The first snafu took place during Conan O'Brien's monologue. A video clip failed to work, causing O'Brien to snark, "I flew three thousand miles to be here and had two hours of sleep... We gonna try that again?" 
I have to admit, Conan's bit got funnier as he was forced to improvise but I was left wondering how he really felt about his new network. "You know why I love working at TBS... the commitment to detail." When a stagehand told him to skip the clip he responded, "Alright, I guess I'll do what I'm told. Beggars can't be choosers."
When things looked their bleakest, Turner Entertainment president Steve Koonin took the stage and was surprisingly entertaining. "Unfortunately we had a power surge. It blew something. I'm Jewish, I have no idea. The sh*t stopped working. I think you can make Univision tomorrow... but I'd ration your pastries and beverages."
Steve may have a future in improv. He was more comfortable in front of a live audience than most execs I've seen and even some talent. No wonder programing chief Michael Wright joked that he earned himself a 10-week deal for a new show. Koonin did warn ad buyers that, "We're not changing our pricing because of this but our expenses may be going down if you know what I mean."
When they finally got things rolling again, there were still issues. The new TBS original comedy The Wedding Band had a clip which finally showed on the screen but the sound wouldn't sync up making it difficult to say if it was actually funny.
Then we sat through more dead space until somebody thought to stick a microphone in Ray Romano's hand and push him onto the stage. The Men of a Certain Age star quipped, "They said earn your money. Have you seen my paycheck?"
To be honest, Romano and his unexpected stand-up was funnier than George Lopez's well rehearsed monologue which included the Dominique Strauss-Kahn inspired joke, "If your housekeeper at your hotel does a nice job, leave some money on the nightstand. Don't leave semen."
Between that and Conan's mediocre opening, it's no surprise that I tune in to Jimmy Kimmel for my late night entertainment.
It took quite some time but we eventually got to see the highlights of TNT's new shows.
Falling Skies (premieres June 19). With Steven Spielberg executive producing, ads for this new sci-fi drama are everywhere. Noah Wylie and crew are the survivors of an alien invasion looking to resist the enemy and rebuild the world. The trailer is action packed so I know I'm tuning in. Let's just hope it lives up to the hype.
Franklin & Bash (premieres June 1). This dramedy staring Mark Paul Gosselaar and Breckin Meyer looks to put the fun into the standard law show as lawyers who try to make sure a big corporate law firm doesn't take itself too seriously. I'm not sold on the premise but the leads are so darn likable that this one just might fly on charm alone.
Perception (premieres 2012). Think of this as Inception meets A Beautiful Mind. Eric McCormack plays a neuroscientist with mental issues who is recruited to help the government with his unique abilities. Not everything about this premise was clear but McCormack and Rachael Leigh Cook are certainly appealing and I'm intrigued enough to want to check it out.
Major Crimes (premieres summer of 2012). This is the new spinoff from The Closer staring Mary McDonnell. There was no clip ready, but the most promising thing I heard was that several cast members from The Closer will be joining this team so I'm definitely in.
TBS/TNT definitely lived up to their tag line. The Upfronts were funny and dramatic, but perhaps not always in the way they had intended.
C. Orlando is a TV Fanatic Staff Writer. Follow her on Twitter.