Another solid episode of Parks and Recreation this week. The show has really found it's groove lately and it's showing with episodes like "Eagleton."
I really enjoyed Parker Posey as Lindsay, Leslie's ex best friend and new nemesis, especially since it offers something new and funnier than Marsha.
Lindsay and Leslie come from the same cloth, you know, until someone fixes their deviated septum, loses 35 pounds, and their soul. That was seriously one of the funniest lines the show has delivered this season for me.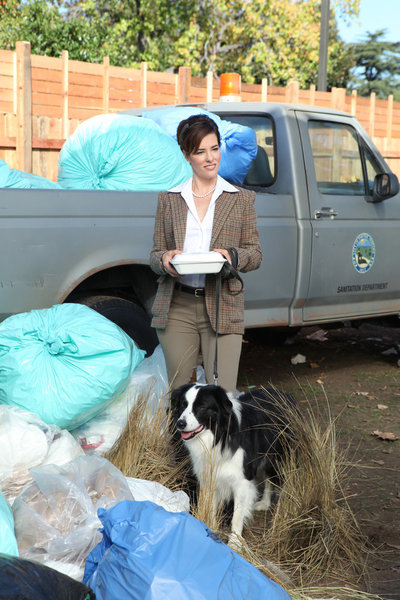 But the part of Lindsay I really loved is something you just can't take away: Pawnee. Even with all the wealth and power and well to do in Eagleton I still sensed something very Pawnee in Lindsay. That Leslie can-do spirit and nose-to-the-grindstone work ethic.
But even with all of the gift bags and great food from Eagleton, none of that can compare to the greatness that was a Ron Swanson surprise birthday.
If I were a betting man I would be out a lot of money right now because I thought for sure Leslie was going to throw Ron a big surprise party.
Instead, what we got was something much better.
Leslie throws him a very "Ron" birthday party. Lots of meat, plenty of alcohol, his favorite movie, and absolutely no company. I always knew how much respect Ron and Leslie have for each other but to know a little bit more about their history together makes me love them even more.
Ron was the main reason why Leslie turned down the job in Eagleton.
Because although he disagreed with her opinions they work well together and he respects her. Because although Leslie will get plenty of job offers she'll only have one hometown. It's not often I get choked up watching a comedy (in fact the last time I did was during Friends) but, this was a really sweet moment.
It brings to light just the kind of person Leslie is too. She'd rather work with good people in a place that might not have as much wealth or power or prestige. And in the end she puts that to good use in the Pawnee side of the park, offering an olive branch to Lindsay and a new baseball field for the children.
Other thoughts:
I loved the prison gift bags.
I was left wishing for a little more Ben in this episode.
Who knew waffles make a great laxative?
I loved the little toothpick bow on top of Ron's steak.
What did you think? Check out some of the night's best Parks and Rec quotes and leave a comment below with your thoughts on all things "Eagleton."

Nick McHatton is a TV Fanatic Staff Writer. Follow him on Twitter.

Tags: Parks and Recreation, Reviews
Want more Parks and Recreation?
Sign up for our daily newsletter and receive the latest tv news delivered to your inbox for free!
More From TV Fanatic

Cindy's husband ends up dead and that forces the police into overdrive. Will his confession hold up?

On tonight's Under the Dome, Rebecca wants to release a deadly virus into the population. Will she do it? And how many would die?

Fritz is offered a new job with the LAPD on this episode of Major Crimes. Read on for more.

Joss tries to stop Harry from going back to Australia, Karen faces a dilemma involving her lover and a patient, April has a crisis of conscience and Savi says goodbye to her home on Mistresses,
---