Nurse Jackie went all Grey's Anatomy on us this week, depicting a patient whose situation clearly mirrored that of the main character.
In the case of "Orchids and Salami," it was a woman who overdosed on drugs, leaving her son angry, alone and sad. This didn't serve as a wake-up call for Jackie, though, as the camera may have zoomed in on her intense, contemplative face - but nothing about her addiction changed by the conclusion of the half hour.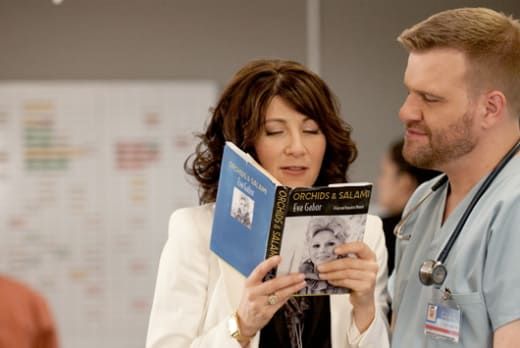 It grew worse, in fact, as we learned she stole medicine from a cancer patient.
Does anyone actually like Jackie at this point? I'm all for morally grey, layered characters... but she's a adulterer, a liar and someone seemingly oblivious (or simply uncaring) to those she could seriously hurt. Even when those people include her husband and children.
For awhile, viewers were supposed to balance out these flaws by the fact that she's a caring nurse. Yet that has now gone out the pill-popping window. Jackie is perpetually sullen and, in another example of the show slamming us over the head with the obvious via that conversation with the Indian patient, can never be high enough.
At least Kelly is a new, interesting character. I'm waiting for something to come out about him, though. It's hard to believe the guy is just a saint who texts with Sean Penn and buys everyone drinks. There must be more to his story.
As for O'Hara and Eddie getting together, I doubt it will happen. The series just doesn't take drastic steps such as this. It likes to tease possible changes and major developments, but we're more than halfway through with the season and very, very little has actually transpired.
At least Coop appears over his depression, however. Thank goodness for that kite. A happy, overly confident Coop is a hilarious Coop and that gives me something to look forward to every week.
Matt Richenthal is the Editor in Chief of TV Fanatic. Follow him on Twitter and on Google+.