Nurse Jackie raised a number of questions this week:
1. What will rock bottom look like for Jackie? Events on "Have You Met Miss Jones?" made it clear that Jackie is growing more desperate than ever. She sent all of her underlings out on pharmacy runs this week, but the mixing of those medicines won't equal the high she got off Oxy and everything else.
It was interesting to note her moment of vulnerability with Eddie, as she admitted to missing the rush of pill popping. She really is far more honest with her ex-lover than she is with her husband or best friend.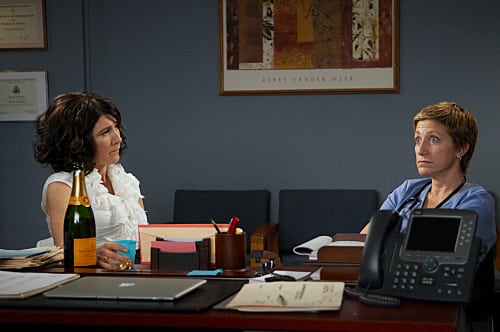 2. How much money does O'Hara make?!? I know doctors rake it in, but she has a car service; she eats at expensive restaurants everyday; she lives in New York City; and she can still afford an entire townhouse?!? I'm in the wrong profession. As a TV critic, splurging takes place when I go with Starbuck's over Dunkin Donuts.
3.
Is Kevin lying?
In
our interview with
Dominic Fumusa, the actor said his character will get a lot darker on the final few episodes of season three. Combined that with us never seeing a pinball machine and with Kevin's suspicions lately and I'm calling it: no way is he delivering the item to Montauk. Dude is definitely up to something.
4. Who will get married first: Zoey and Lenny, or Coop and his Facebook date? I kid... mostly. But let's hope Zoey finally stops testing Lenny and starts to realize the guy is pretty darn awesome.
As for Coop, he's consistently my favorite part of the series. His blissfully ignorant schtick might get old for some, but come on: did you really not crack up when he he cheered to "dudeville?" Or are you not actually hoping he does find true love at some point, with his high school sweetheart, the pretty patient from this week or elsewhere?
Not a bad episode all around, though I keep on waiting for Jackie to suffer consequences from her action that involve more than just the honking of a handful of angry motorists.
Matt Richenthal is the Editor in Chief of TV Fanatic. Follow him on Twitter and on Google+.