Last night on NCIS, the death of DiNozzo's ex-partner served a dual purpose, triggering both flashbacks to his old gig and a potential new lead in the P2P Killer case.
The flashbacks to "Baltimore" weren't exactly as real or gritty as The Wire, but did provide an effective contrast between NCIS and Tony's job in city homicide.
For the second time this season, we were presented with an "origin" episode focused on one of the core characters looking and acting around a decade younger.
Just as Rocky Carroll did in "Enemies Domestic," Michael Weatherly shined while Mark Harmon played the key supporting role in what became a terrific installment.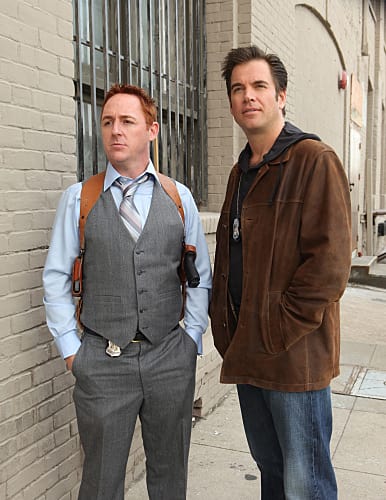 The hair was a bit much, but Tony circa 2001-03 (he walked into HR at the end, but it's unclear how long before the NCIS pilot this supposedly took place) was a treat to watch.
Weatherly clearly had a field day as a younger version of his hot shot, wiseguy alter ego, dressing down in casual attire and dressing down Harmon for the first and only time.
We were also treated to a pair of entries from Gibbs' Rule Book (#5: You Don't Waste Good; #35: Always Watch the Watchers) and the first-ever DiNozzo Head Slap.
It was a great nod to the fans, but still relevant to the present.
This show does flashbacks right, because for all the moments that made us smile, the present and past were believably enmeshed thanks to Tony's ex-partner, Danny.
The plot was intriguing for both past Tony and present Tony, with Danny involved in a pair of mysteries, albeit deceased in 2011. So who killed him and why did it matter?
After Danny was killed, all signs pointed to the Port-to-Port Killer, but Ducky figured out that the real assailant was a copycat - and not the first copycat they brought in.
That twist was a bit hard to believe. A copycat killer who hadn't struck yet? In any case, it was a voicemail Danny left Tony before he died that eventually tipped him off.
Before Tony left the Baltimore P.D., he and Danny busted a money laundering ring - one Danny was in on. Tony let his partner off the hook, but someone else knew, too.
Flash forward to the present. After he realized the copycat killer had to have been someone in law enforcement, DiNozzo connected the dots and the perp became clear:
His ex-boss in Baltimore.
Episodes like this walk a fine line, but what could have been a head-slapping (and not in that affectionate Gibbs way) resolution was sold by the strong writing and acting.
Despite getting off on the wrong foot with Gibbs' Donnie Brasco-esque arrest, he impressed Tony from the start, and vice versa. Their relationship came full circle Tuesday.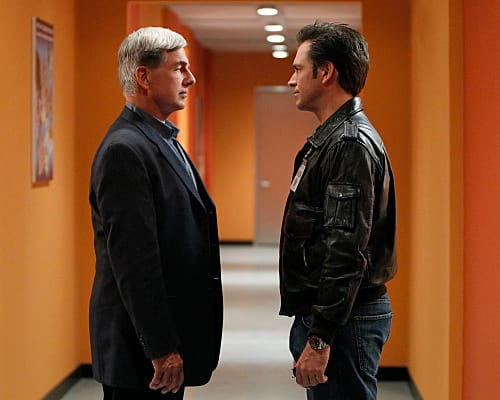 When Gibbs arrived at Danny's door with an armed Tony inside the second time, the parallels were obvious. Look closer. Don't let good get away. Take care of your own.
We've watched the dynamic between the two men form for many years, but it was great to see how it began, all tied into a compelling plot with a lot of fun moments.
Regarding the real P2P Killer, we're back at square one ... for the most part.
Abby and Ducky are certain that the only person who tipped NCIS off that they were chasing a copycat had to be the killer - who also had to have access to NCIS files.
The identity of the eyeball's owner is marked classified and still a mystery. Who do you think the team is chasing and who, if anyone, will be felled by the P2P next week?
A few random thoughts before turning this over to your comments ...
E.J. and her team are just gone for the week? Suspicious.
How long until the stapler resurfaces next time?
How much do you want to hug Abby?
WENDY?!
Discuss last night's episode of NCIS and share your predictions below!
Steve Marsi is the Managing Editor of TV Fanatic. Follow him on Google+ or email him here.