"No one will see it coming."
So said House executive producer Greg Yaitanes about the cliffhanging conclusion of "Moving On," and there's no doubt that he's right. No one could have seen House driving his car through Cuddy's living room coming.
But does that make it an interesting ending? Or did it come across as a shocking development purely for shock's sake?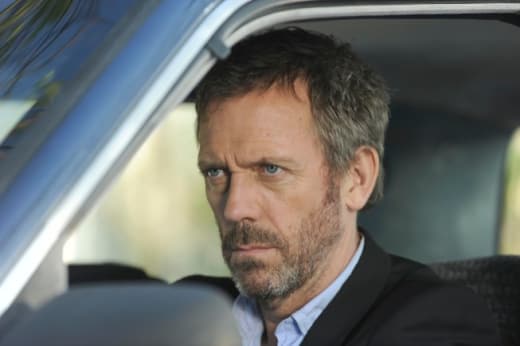 Did House try to - gulp! - kill Cuddy?
Throughout the episode, Cuddy and Wilson tried to make it seem like their friend was at some new low. Yet hasn't he always been a miserable SOB? House himself has always hammered home the message that people don't change - and he's someone who's practically reveled in his depression for years. It's made him feel special.
Could it be that his split with Cuddy has truly sent House over the edge? Sure. But I've had the impression over the last few weeks that he's just back to his old, destructive ways.
Perhaps it's the recent news that Lisa Edelstein is not returning next season that makes me believe this ending was created simply to give the character of Cuddy an out. Producers didn't know whether or not Edelstein would sign a new contract when the episode was filmed, and it's not hard to see how this open ending could have worked in either direction.
It's an understandable dilemma - the show had to prepare for both scenarios - but, from a storyline standpoint, it also had the negative effect of not feeling earned. I simply don't buy that House had reached a point in his fall where he'd react in such a manner to the sight of Cuddy and another man. I actually got the opposite feeling via his interactions with the patient (played by Oscar nominee Shohreh Aghdashloo)
"[Life] doesn't mean anything," he said to her. "You don't need to depend on people who are gonna let you down."
Sounds like something House would have said in seasons past, doesn't it? And he never destroyed a home and multiple friendships at any point then, did he?
All that said, am I curious about where this will all go on season eight? Absolutely. Cuddy will clearly have transferred to a different hospital and Wilson will... what? Continue to enable his friend? At some point, you just need to cut ties. As soon as that bumper touched Cuddy's lawn, I'd say the point was reached.
Finally, I need to touch on Taub's double pregnancy to echo Yaitanes' point above: I did NOT see that coming! Taub has made for solid comic relief this season, becoming the first member of the team about whom I can say I'm legitimately interested.
You certainly can't say House played the season finale safe, can you? What did everyone else think? The season finale was...
Matt Richenthal is the Editor in Chief of TV Fanatic. Follow him on Twitter and on Google+.