What an incredible episode to pick back up the season after the short break that Criminal Minds: Suspect Behavior took. This was one the best if not *the* best episode shown so far. 
Allow me to start by mentioning the star power the episode had for guest stars. We led off with the always incredible Eric Roberts as District Attorney Andy Armis, followed by my new favorite rising star, Mariana Klaveno (formerly of True Blood) as Veronica Day, and our trifecta of great stars rounds out with Richard Schiff back as Director Fickler.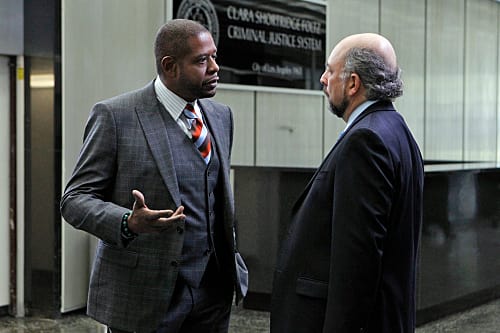 I really hope we get to see Klaveno back as Veronica Day. While I enjoyed her work on True Blood, her performance this week was so good it made me misty-eyed at the end when she was talking to Cooper about her mom, (everyone knows I'm a big softy.) Actually, all of her interactions with Cooper were very well done. 
Whitaker and Klaveno made it very easy to tell that they are very similar people who took very different paths. Both quickly acknowledged the path the other was on, and which was the better path.
This was so strong to them that it is the reason that the first thing Veronica did when she got set free was to go and confessed to Rachel. 
Cooper showed her there could be a different way and she really liked who Cooper is, and she wants to be like him. You could also tell that Cooper sees in Veronica what he could have become had it not been for a twist of fate that he made a different choice or (more likely) someone intervened on his behalf along the way.
Recognizing this Cooper wants to help her as much as she wants to be helped. 
If you add all that up and add to it what Cooper pointed out about her being a gifted profiler mixed with what we know about how the Red Cell teams work (a.k.a that Prophet went to jail for a little while), it is not outside the realm of possibilities that she could come back and end up helping them on a case; maybe even her mother's murder case!
You taking notes out there Mundy and Bernero, "The Time Is Now"!
On the flipside of Cooper and Veronica, we also got to see how much the team has grown to respect and admire Beth Griffith (Garofalo) as she got to step into Cooper's shoes and lead the team. This could have easily used the same old Trope of the team resenting her or her becoming to bossy, but it didn't.  
In this case Mundy and Bernero took the high road and showed Beth to be a bit scared and humbled by the opportunity and the team stepping up to make her really feel like part of the team. It was the icing on what was already a delicious slice of crime drama cake! 
That is not to say I have given up on my Gina LaSalle episode dreams! But, if we keep getting episodes like this, I don't mind it taking a little longer to have that dream made a reality.
What did you think? Did you find yourself liking Veronica at the end like I did? Do you agree with Cooper that she was a woman trying to make amends for the things she did as a girl? Sound off below!
Jim G. is a TV Fanatic Staff Writer. Follow him on Twitter.