The past should be left in the past ... right?
Especially when you're talking about a woman who almost killed you and stole your baby, but what about an ex-husband? On Private Practice, Katie Kent returned to stir things up a bit for Violet and Pete. Billy, Charlotte's ex, also made an appearance.
These storylines just weren't enough for me though.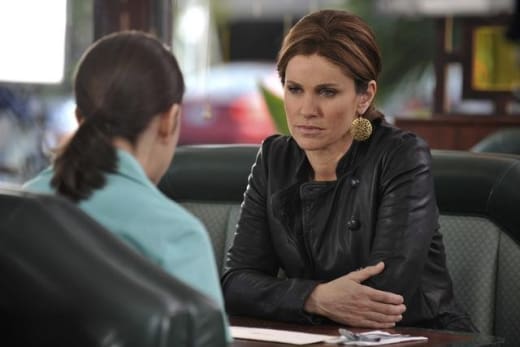 I neither liked nor disliked "What We Have Here ...", but one thing's for sure: Whether or not you are a fan of Sam and Addie, last night definitely couldn't have been easy for you. I know it wasn't for me. We've waited a month for the return of Private Practice, and still don't know where their relationship is going.
We knew that Addison wants a baby. We knew that Sam already has Maya and Olivia. So, why are they still fighting about it? This storyline has dragged on for months now, and I find myself only anticipating an end result.
I've certainly grown tiresome of waiting though.
Then, there was Katie. When the creepy music played and Katie suddenly appeared in Violet's office, I was on the edge of my seat. Throughout the entire episode, I found myself wondering how Katie could have been released after only 18 months.
That just does not seem long enough for all of the terrible things she did to Violet.
I was relieved to hear Pete say what I wanted to say to Violet throughout the entire episode: "You can't fix her. No matter how hard you try. You can't fix everyone, Violet. The sooner you accept that the better off we'll all be."
Yes, the sooner Violet accepts that she can't fix everyone, we will all be better off. I get that Violet is who she is, but I thought that she acted recklessly when going to see Katie.
Violet can be unbelievably stubborn at times, and she seemingly acted without regard for Pete and Lucas. I wonder if this will be the last we see of Katie.
Although I don't think it was ever needed in the first place, I'm glad that Violet finally gave her blessing to Sheldon to continue dating Marla. Sheldon deserves to be happy, and I'm hoping Marla will be his date to the wedding next week.
At first, I found it a little strange that Cooper was reaching out to Billy to help Charlotte with closure from her previous marriage. I can't say that I was able to picture any past chemistry with Billy and Charlotte, but I am glad that Charlotte got the closure that she needed. I absolutely adore Cooper and Charlotte, and want them to get their happily ever after.
I wasn't fully satisfied with this episode, but next week Charlotte and Cooper are getting married. I can't wait!
By the way, Amelia's such a great friend and is a rock star in the operating room. I'd love to see her get her own storyline.
Did you like this episode? Are you still rooting for Sam and Addie? Do you think that Violet violated any doctor-patient confidentiality laws? Discuss!