While not as strong as last week's superb "Dinner Party," "Soulmates" did serve up everything I enjoy about the show (in a real meat sort of way, of course).
First up, we have Leslie deciding to try online dating after being turned down by Ben. Much to Leslie's dismay the site gives her Tom as her soulmate with a 98% match.
My favorite part of the entire episode was when Leslie calls up the site's owner to tell him his service is crap. When the owner tells her he met his wife using the algorithm the site employs Leslie responds with "Really, well that's not gonna last."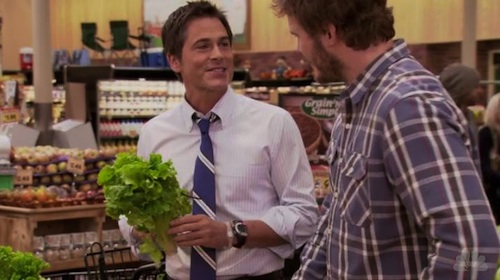 I wasn't sure just how creepy Tom was going to get when Leslie finally tells him about being soulmates. I was fearful the show could possibly go just a hair too far in the creepy department in an effort to get to the jokes delivered (I'm looking at you Joe from Sewage).
Thankfully, Tom delivered just the right amount to creep out Leslie, touching and flirting with her just enough, to make her uncomfortable and keep me in fits of laughter.
The other soulmate this week was Ron's love of real, artery clogging meat.
I often find Ron to be the person who vocalizes what the rest of us are thinking. He did just that in the Grain 'n Simple from comparing his amusement to going to the zoo to throwing away the Vegan Bacon.
Finally, I want to touch on the Ben and Leslie relationship. Although I'm usually all for couples getting together sooner rather than later I have to say I'm enjoying the slow pace the two of them are taking things. For Leslie, as we all know, she wants a nice guy and to take things slow.
For Ben, he has to of course follow Chris' no office relationships, but on top of that I believe he's partly scared. The minute they step out of the office, as Leslie offered, things get real and it's no longer something that can be excused as work.
Other thoughts:
Tom's slang for everything he likes are some of the funniest "Tom-isms" he's doled out yet. Who else needs a food rake?
While expected I still rather enjoyed Ben and Leslie going on their little date in front of the mural.
I love the fact that Jerry has his own "Jerry" in Kyle.
I was hoping for more Andy and April this week since they did just get married.
What did you think of "Soulmates"? Leave a comment below with your thoughts, and be sure to check out our list of Parks and Recreation quotes as well!

Nick McHatton is a TV Fanatic Staff Writer. Follow him on Twitter.

Tags: Parks and Recreation, Reviews
Want more Parks and Recreation?
Sign up for our daily newsletter and receive the latest tv news delivered to your inbox for free!
More From TV Fanatic

Power struggles ensue all around Chester's Mill on Under the Dome. Lives will be put on the line.

Scott decides to get tough on Teen Wolf after rescuing his Beta by declaring he won't sit back and watch more deaths. Find out what else went down in the review!

Heather and Tamra consider making peace with Shannon on The Real Housewives of Orange County. See what went down in our TV Fanatic review!

On Murder in the First, the trial of Erich Blunt reaches its conclusion. But what is the verdict? Find out when you read the review.
---