Is it bad that I was hoping Kevin actually had left his family this week, as Nurse Jackie briefly teased?
I don't want Grace and Fiona to be without their father, but at least such a major development would have made "Mittens" remotely relevant. Instead, we were treated to another episode that just felt like the show spinning its drug-addicted wheels.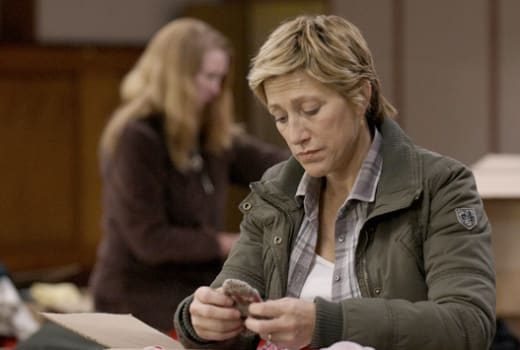 Ever since we met Jackie Peyton, she's hidden a drug habit from those around her. And if you stop to think about it, has anything really changed since the series premiere?
It appeared as though Kevin and O'Hara's intervention would be a significant step to conclude season two, but any trace of suspense regarding Jackie and her relationship with her husband and her BFF has pretty much disappeared.
Jackie and O'Hara are officially fine again now; and Kevin may have a few suspicions, and he may be taking advantage of his wife's newfound guilt a bit, but does anyone think he's really on the verge of finding out how bad off Jackie is? And does anyone think her gazing longingly at Grace's old mittens means she'll take any meaningful steps in the near future?
The show is content just having Jackie remain a pill-popping mess every Monday, while filling in scenes around her with entertaining characters and quips. Fortunately, Zoey and her pedometer were around this week to keep the mood light, while Coop insisting his competition with O'Hara was akin to a "dance-off" was one of his funnier lines in awhile.
So a few chuckles here and there, thanks to supporting players, but more frustration over what feels to be a lack of any substantial storyline movement. It's been the story of season three so far.
What did everyone else think?
Matt Richenthal is the Editor in Chief of TV Fanatic. Follow him on Twitter and on Google+.