Wow. That sums up the reaction to last week's Criminal Minds, for better and for worse.
After bidding farewell to A.J. Cook and Paget Brewster - the latter in what really felt like a season finale Wednesday - how does the show pick up on March 30?
"We are all reeling, and yet, there is work to be done, and there's a case we need to summon our professionalism for and dive into," Thomas Gibson (Hotch) says.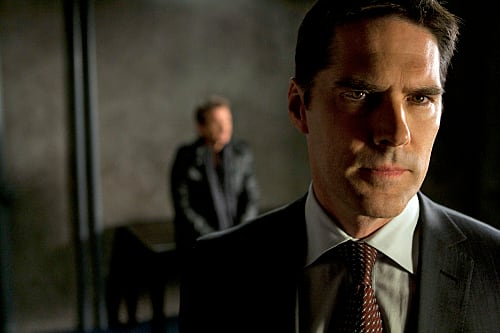 Gibson in last week's powerful and controversial episode, "Lauren."
"We have a community who needs us, and they need us no less in that particular moment in our family's history, no less than they would in any other moment. I think as the unit chief, [Hotch] is trying to keep everybody focused and keep himself on track as well."
"It's something that obviously could be a cause for collapse," Gibson tells Entertainment Weekly, "but there's simply too much at stake to let that happen."
As chief and backbone of BAU, Gibson says Hotch takes his role even more seriously as the loss of Emily Prentiss threatens to briefly derail them.
"She feels like one of the essential limbs of the team, and now that limb has been cut off and they are missing it and missing her. They very acutely feel the loss," he says.
"I think, at that point, he doesn't have internal dialogue about that. I think the internal dialogue needs to take place, and it will take place at an appropriate time and moment, but it should not take away from the time the team is needed and when they need him."
"There are going to be repercussions emotionally, and it's not going to be easily digested and moved on from."
While Cook and Brewster are gone, if not forgotten, Rachel Nichols (Seaver) is here to say.
Is there a chance she and Matthew Gray Gubler's Reid might forge a romantic connection?
Probably not, says the actor, who seems to have other ideas for a Reid love interest:
"I think Reid's girl would be more of a champion knitter. I think he would fall in love with someone who couldn't kick down a door. He'd be happy with a masseuse, or a woman who makes candles, or a champion yodeller. Oh, or a Himalayan Sherpa," says MGG.
"Someone from the Himalayan mountains would be his dream girl."
Well, there you have it. Tough luck, Seaver.
Steve Marsi is the Managing Editor of TV Fanatic. Follow him on Google+ or email him here.