Down to the final five, the stakes are especially high. After Dale (and Angelo's) shocking eliminations, (boo, Mike!), it's clear that the chefs are feeling a lot of pressure. A few tears and near breakdowns made that clear this week, as evidenced by the rundown below...
Quickfire Challenge
Padma escorts the chefs to historic Ellis Island, where they're forced to cook from ingredients found at a ferry food vendor. Not the most glamorous of challenges, but it does force the chefs to think on their feet because they really have nothing to cook with.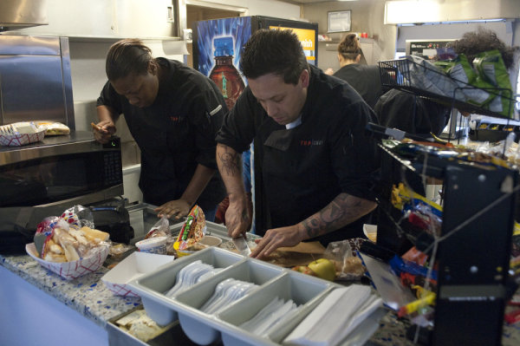 Richard has a clever idea to make a Vietnamese bahn mi sandwich, except there are no bahn mi ingredients on a ferry. Antonia cleverly decides to make grilled cheese using a hot dog presser. Mike's soup looks gross, and Carla uses oranges and rosemary that she found (how?!?) to make a salad.  he guest judge, Dan Barber, chooses Carla as the winner.

Elimination Challenge

Family heritage continues to be a theme. Contestants are encouraged to create a dish based on their family history, which is rather sweet. They are also given a given a complete family background by a genealogist, as well as a reunion with a family member, which is especially a pleasant surprise. The biggest kicker of the season? Antonia and Mike are distantly related! Now that they're family, they're buds who root for one another. Hilarious.

It's a really emotional and moving challenge; you can see it reflected on their faces that no one wants to let their families down. Mike decides to cook Italian food for the first time on Top Chef, redeeming his odious nature by talking about his grandmother's gravy.

Tiffany and Carla are really focused on their Southern and comfort food roots, determined to prove themselves after last week's disastrous results. Antonia cooks risotto, a risky move, as a tribute to her father, while poor Richard stresses throughout the entire challenge, despite encouragement from his lovely pregnant wife. 

For once, all of the judges love all the food. They're hard-pressed to find a winner or a loser. Some of the highlights? Antonia's risky risotto, Tiffany's okra, and Carla's grits.

Judge's Table
Everyone is called at the same time because it is one of the most difficult Judges' Table in Top Chef history. At one point, they try to nitpick, but who cares about a tiny pinch of more salt or a tiny bit of messy plating? It's just desperation at that point. Everyone seems happy about their food except for Richard, who continues to stress about his steak and potatoes, despite the fact that everyone enjoyed it.

Dan Barner announces Antonia as the winner. Although her food wasn't particularly better, she took more of a risk. She gets a car and a ticket to Bahamas for the finale! One down. Mike, who got emotional over his grandmother's gnocchi and gravy, is also safe. Two down. 

Then Padma gets all serious and tells Richard to pack his knives - my heart almost stopped - and Richard looks like he would either collapse or kill someone... until Padma says: to go to the Bahamas!! Phew!! Three down.

We're at Carla and Tiffany, and they're both going to the Bahamas. Which means everyone is. Everyone wins! I know we're just delaying the inevitable until the finale, but I'm glad the group is rewarded for such an emotional challenge.

How did you like the episode?  Do you think someone should have been sent home? 



Tags: Top Chef, Reviews
Want more Top Chef?
Sign up for our daily newsletter and receive the latest tv news delivered to your inbox for free!
More From TV Fanatic

On tonight's The Bridge, the search for Eleanor continues. Will she kill again before she's found?

On Extant, Molly reveals her pregnancy to John but Sparks' story isn't exactly a plausible explanation.

Mike, Briggs and the team pull out all the stops to get Paige back. Read our Graceland review of "The Unlucky One" now to find out if they were successful.

Rachel & Jessica's life choices seep their way into the business of the men in their lives, some of which only cause more problems. Read out Suits review of "Litt the Hell Up" now to see what went down.
---