This week's episode of The Simpsons not only featured guest voices by stoner duo "Cheech" Marin and Tommy Chong, but actually dedicated the entire "A Midsummer's Nice Dream" to them.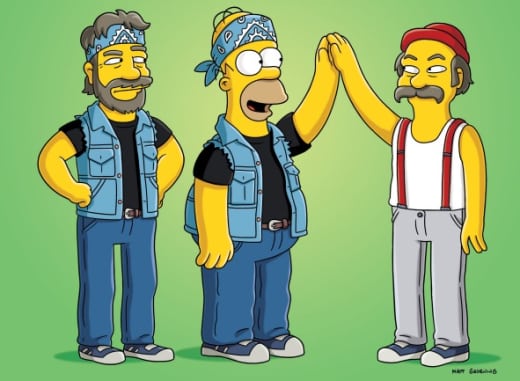 This season, which has been surprisingly strong episode-wise, has been hit-or-miss when it comes to star-studded guest voices. Unfortunately, Cheech and Chong fell into the latter category.
While I've never been a huge fan of the duo, their movies have at least entertained me. It seems as if the Simpsons writers, however, felt differently, as they spent most of the episode mocking the act in not-very-funny ways.
And I am not blaming America's favorite stoners for the episode's failure. It's just watching a half hour of a cartoon trying to educate us on how Cheech and Chong are not like their on-stage personalities is just not very interesting. If only I had Low Rider playing in the background to sing my distaste like Homer.
Elsewhere, the B story - featuring the crazy cat lady as a hoarder - didn't save the day and possibly made it worse. Besides... South Park did it! I also think I'll just ignore the weird Bart-as-Puck ending from the Shakespeare play where the episode got its namesake.
I'll put on my suspenders and mustache, end my rant rant against the episode, and just leave you with my favorite Simpsons quotes from it:
Bart: Who the hell are Cheech and Chong?
Homer: Cheech and Chong were the Beavis and Butthead of their day!
Bart: Who are Beavis and Butthead? | permalink
Chief Wiggum: Get me a t-shirt - XXL.
Lou: I thought you said XXL was a real wake up call?
Chief Wiggum: That was for pants. | permalink
Marge: Remember, on the road the only vice you can indulge in is gluttony. Save lust and rage for me and the kids.
Homer: Honey, don't worry, I'm gonna come back so horny and angry. | permalink
Homer: Can we at least get some french fries?
Cheech: Too high in trans fats.
Homer: Awwwwww, stop speaking Spanish. | permalink
Eric Hochberger is the programmer of TV Fanatic, so please forgive his mediocre writing. His programming is far better. Follow him on Twitter and/or email him. Just don't request threaded comments. They're coming.