The Office Review: Magical Legumes, Moments
by Dan Forcella at .
I am still smiling. As funny and mean as Michael Scott can be at times, he can also be ridiculously sweet. And "Garage Sale" harnessed all of the comedy and sweetness of Dunder Mifflin Scranton into one fine half hour of television.
There were plenty of laughs along the way, as Michael showcased both his crazy bargaining skills and his terrible attempt at asking Holly's father for her hand in marriage. It was the tenderness of the final proposal scene that brought everything together.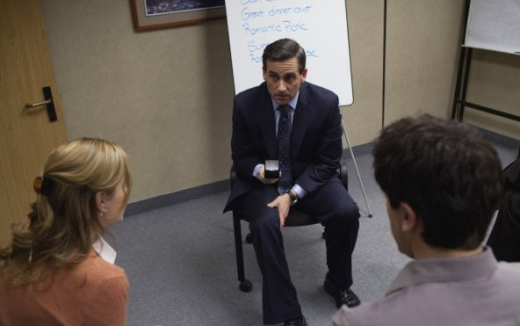 Michael Scott is such a die hard romantic that he wanted to make this moment perfect, and although Pam halted his first hilarious idea to propose via fire in the parking lot, I loved seeing this small group of employees help him get it right.

And right they got it! Michael taking the love of his life around the office to show her every place that reminded him of her, and finishing with a hallway of friends followed by a room filled with candles, could not have been more perfect for these two. The sprinklers coming on mid-proposal? Well, that was just the hilarious icing on this pre-wedding cake.

While the engagement of Michael and Holly was as straight up as they come, the other two stories of the week were both filled with plenty of trickery. Unsurprisingly, they both were fantastic.

We knew that Dwight's plan to trade up from the tack to the most expensive item at the garage sale was destined to fail, but that fact didn't make it any less funny. Once Jim came into play with his latest twist on the "Jack and the Beanstalk" tale, it was just like old times between these two, and only a matter of time before Jim got Mr. Schrute to want those magic legumes.

Just like Jim tricked his way into a brand new telescope, Kevin tricked Andy and Darryl out of a few bucks while playing my new favorite board game: Dallas. The end to the plot was fantastic, as Kevin made the other two feel bad and ended up stealing the money, but it was also great to see Andy and Darryl acting as friends before that... this time with fake Southern accents and making up rules to their board game.

So although we have known that Michael was leaving The Office for a long time now, this was the first time it had been mentioned on the show. Going to Colorado to help take care of Holly's elderly parents is as good a reason as any I could come up with for him to leave this place.

Now that everyone at Dunder Mifflin is in the loop, how do you think they'll react?  Hopefully better than the hissy fit I threw when I found out Steve Carrell was leaving the show. As always, check out The Office quotes page for many more one-liners from this week's episode.

Dan Forcella is a TV Fanatic Staff Writer. Follow him on Twitter.

Tags: The Office, Reviews
From Around the Web