With The Good Wife on hiatus until March 22, this is the ideal time to debut our first-ever TV Fanatic Round Table dedicated to one of the best shows on television.
Below, lead Good Wife critic Matt Richenthal is joined on the panel by fellow TV Fanatics Jeff Kirkpatrick and Carissa Pavlica, as they dissect pressing issues related to Alicia, Cary and company. Reader feedback is encouraged...
~~~~~~~~~~~~~~~~~~~~~~~~~~~
Will Peter win the election?
Matt: Definitely. Season three has Peter vs. Alicia in court written all over it.
Carissa: I'm at a loss with the election. I've tried to decide which would make a better story and both work. If he wins, it might bring back old fears in Alicia and draw them apart. If he loses, I guess he'd have to find something to do, and it might bring his work closer to Alicia's, which would be more interesting to me.
Jeff: No doubt. Otherwise there won't be anything to keep him and Alicia in the public eye, nor would there be a reason for Eli to stick around. There's sure to be more tests and scandals ahead, which will require Alicia to remain a "good wife."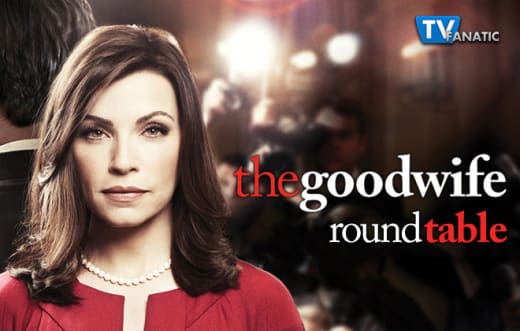 Are you on Team Peter or Team Will?
Matt: Team Please Can We Never Hear About the Lame Missed Voicemail Ever Again. Also, Team Will. He's intelligent, passionate, loyal and has never cheated on Alicia with a stripper.
Carissa: I'm only on Team Peter because the show is The Good Wife and I want it to continue. I'm on Team Alicia, really. Whatever makes her happy, even if it is cheating on Peter. That's the kind of girl I am. Even with that bravado, I think there is something about the bad boy that turns Alicia on and that's why she's still with him. Will is probably not challenging enough in the long run.
Jeff: No doubt. Team Peter, only from the perspective that I don't want to see Alicia have an affair because it would denigrate her character too much. But it's tough not to root for Will cause he's just so darn awesome.
Should Alicia leave Gardner & Lockhart?
Matt
: From a show's point of view? No. From Alicia's point of view? Absolutely. She would be free from any emotional hang-up with Will and she might be on a faster track to make partner. What if Cary really does come back, making four times the salary of Alicia? She might have to put her career above all else for a change.
Carissa: Never. That's one story I wouldn't like. The dynamic of the entire team is so fantastic. To lose it would really wreak havoc on the show. Unless a much better candidate than we have seen so far shows his/her cards, that is. Rita Wilson was a horrible character.
Jeff: No way. Alicia's interactions with the people at G&L are the lifeblood of the series. Every time she rounds a corner and is required to do one more thing that doesn't sit well with her morally, I remain further in awe of Julianne Margulies and the depth of this character.  Pitting her against the folks at G&L would lose momentum, sort of how it did for Cary.
Kalinda and Cary: Better as friends, or should totally be hitting that?
Matt: They gotta hit that. Why? Consider the potential couple's nicknames: Calina? Kary? Both are genius!
Carissa: I love them both so much. Both are so incredibly sexy and mysterious. That kiss? I could smell smoke after the heat they generated. Any story giving them more airtime is great, and after that kiss, I think a pairing is worth a visit.
Jeff: Better as friends. To put Kalinda in a relationship would peel back too much of the mystery that shrouds her character. Doing so with Cary, I think, would disrupt her relationship with Alicia too much, and I've grown very fond of their almost sisterly dynamic.