The Good Wife offered significant movement in its two major areas last night, as Bond was ousted from the firm and Childs forced to withdraw from the election.
Yet I most enjoyed "Great Firewall" for the case of the week, which featured a pair of solid guest stars and a twist more surprising than either of the developments cited above.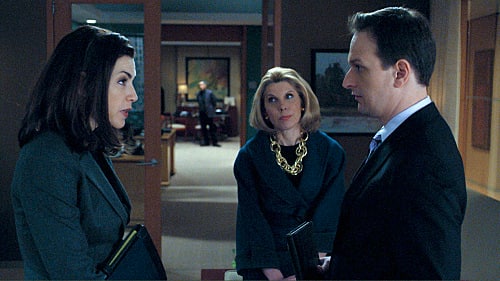 First, let's stop and give mad props to Ken Leung. The actor who played a snarky, fast-talking Lost character, adept at English and sarcasm, shined here as a man struggling to formulate words, coming across as defeated as anyone who had been tortured for five years would be.
It was an impressive performance that showcased Leung's versatility.
John Benjamin Hickey also appeared as the founder of a social network site, donning far more clothing than he typically does in his role on
The Big C
. More than any show on TV,
The Good Wife
specializes in bringing on guest stars that never distract from the key characters or plots. The show manages to hire relatively big names without it ever feeling like stunt casting.
The series also redeemed itself here. Many critics took "Net Worth" to task for seemingly focusing on nothing but jabs at Aaron Sorkin when taking on a case that mirrored The Social Network. But the Mark Zuckerberg clone was brought back this week, in a way that jarred Alicia and once again proved how impressively this drama resides in the grey.
When Will first uttered to Diane that the firm's goal was to stop Hickey's character's company from releasing the IP addresses of Chinese dissidents, Alicia looked up, encouraged that she was a part of a case that appeared to center on human rights. But this soon proved to be the exact opposite, of course, in what goes down as one of my favorite scenes to date.
Confronted by Alicia's accusation that he was simply aiming to get his client full reign over China, Will denied, stammered, hemmed, hawed. But then he sounded like the Will we've always known, even if Alicia had built him into someone else in her head. Will is clearly a good person, but he's also been one to focus on profits and the precise letter of the law. This is nothing new, and it speaks to the intelligence of The Good Wife.
How many other shows could have a main player act in what seems to be a shady manner, yet is actually consistent with his character and not even a turn off? Will is great at his job and this is why. He said it best to Alicia: how can she remain so naive, considering all she's been through in the last year? Some might call this cynical, others realistic. I just call it fascinating television that treads in matters few other shows dare to touch.
I've spent a lot of time on the aspect of this episode that has the least far-reaching consequences, but that only because I found it to be the most interesting. It wasn't exactly a shock that Diane and Will won out over Bond, and Julian may have had Bond fooled, but I'm proud to say this was one maneuver I saw coming the instant he made Bond an offer.
Still, was I tense during the equity partner vote? Absolutely.
As I've said many times before, I've unfortunately lost interest in Kalinda this season. I wasn't excited to learn the details of her mysterious past even before the show chose to drag it out for weeks on end.
I was also wasn't shocked to see Childs drop out of the race. I'll miss Titus Welliver terribly, but all signs point to season three pitting Alicia and company against a new state's attorney's office, led by her husband. There are numerous directions in which the series could go from there.
In conclusion, there's only one question left to ask: who performed a better, behind-closed-doors celebratory dance: Laura Linney in Love Actually, or Alan Cumming upon learning about Childs' nanny?
Matt Richenthal is the Editor in Chief of TV Fanatic. Follow him on Twitter and on Google+.