Is Ian dead? Is Emily moving And what's the deal with Logan?!?
While Pretty Little Liars fans are already buzzing about season two (premiering June 14!), let's go back and revisit this week's first season finale.
TV Line spoke to executive producer Oliver Goldstick soon after Monday's episode aired and peppered him for information about a few key plot points. For example...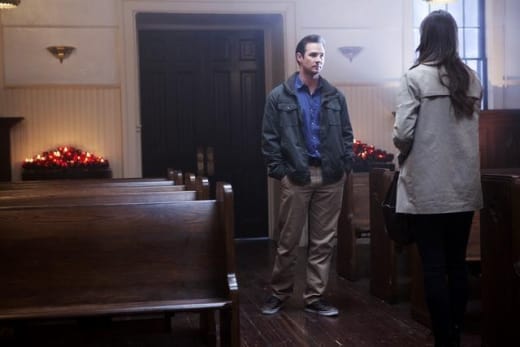 So... is Ian dead?!?
Yes, he looked very dead to those girls, but there is that remote possibility that he wasn't and he got away. And much of the second season is predicated on Ian possibly being very much alive.
Did Ian kill Alison? Does that make him A?
Ian looks guilty and pretty damn good for killing Alison. Is "A" still out there? You bet. Are "A" and the killer the same person? Possibly.
Are Ian, Jenna and Garrett working together?
There's definitely more to that story. You'll find out there's a history to these people and they go back a long way. They're not new to Rosewood and their history with Alison is checkered, so because of that they all might know each other.
Where does the relationship stand between Melissa and Spencer?
Melissa and Spencer's relationship reaches a whole new level of 'Who can you trust?' Do you trust family? Or do you trust who has become your family, who you've married? The alliances are very fraught by the events of the finale, and the Hastings family is really torn asunder by this whole situation.
Is Emily really moving to Texas?
It's very big in the second season. Her mother's need to want to be with her father on the base in Ft. Hood becomes a real conflict for Emily... and she's desperate to find a way to stay in Rosewood. She goes to some extremes. Paige will also still in school and still very much around. Later on in the second season she has quite a nice arc. Right now, there is some Samara action happening.
Will we see Logan again?
You will be seeing more of Logan. And when he is spotted by one of our Pretty Little Liars, he won't want to be spotted.
Goldstick also emphasize how the first season really only encompassed a few weeks of time on the show. It sounds like we'll pick up on season two rather soon after the events we just witnessed, as well.