Modern Family Review: Two Monkeys, A Panda and Many Laughs
Matt Richenthal at .
Hoping that Gloria approves of the following word usage, allow me to say: ta-da! Thanks to a focus on serious issues, Modern Family rebounded from a couple subpar episodes with what may have been my favorite of the season.
We didn't get any irritating misunderstandings on "Two Monkeys and a Panda," nor were there any over-the-top princess parties, unnecessary guest stars or jokes about Gloria's singing voice.
Instead, the half hour gave us three separate stories, all of which centered on a legitimate concern within each couple, handled in a sweet, light-hearted way that avoided pouring on the sap. Oh, it also gave us the image of Phil at the spa. Come on, try not to laugh at this picture: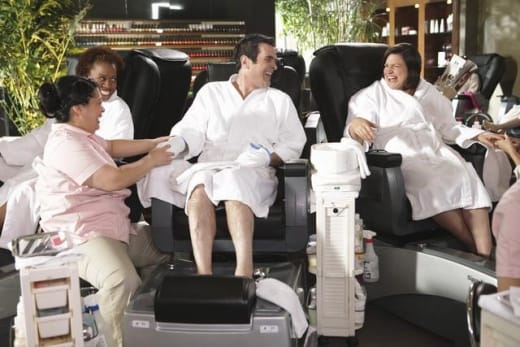 Modern Family has a tendency to get too big sometimes, something especially irritating because it's drawn such rich characters and relationships.
It was refreshing to see an installment that just allowed us to watch Jay, Gloria and Manny interact, especially when the latter made like a bartender and explained the meaning of the expression "over her head."
While this could have been yet another example of Jay and Gloria getting on each other's nerves, it turned into a major dilemma between the pair that had not yet been addressed on the show. Yes, there have been jokes made about their age difference. But Jay really will die first. And Gloria really is gorgeous. So you can see why that might be a problem. Not to worry, though, Jay figured out a way to eternally bother whatever "putz" comes along next.
Similarly, Cam and Mitchell typically fight over such pressing topics as Lily starring in a commercial or how they'll get an in at the local, hot restaurant. Therefore, again, it was a nice change of pace to see this couple deal with something as difficult as adoption (sorry, adoption, YAY!), without it devolving into a series of pratfalls; and it was sincerely touching to watch Cameron so dialed back, truly hurt by Mitchell's action.
Fortunately, I think Coco and Miko will be okay.
Finally, Claire and Phil's storyline didn't deal with life, death or break-ups. But we did learn what sort of face cream Phil prefers and we got to watch him act as the perfect husband, as opposed to the dunce that simply adds stress to his already-tense wife's universe.
Kudos all around. Let's relive some of the best Modern Family lines of the night:
Manny: I made a reference to The Wiggles and it went right over her head.
Jay: I don't know what that means.
Manny: It's an expression. It means she didn't get it. | permalink
Claire: I want them to share clothes, do each others hair and gossip about boys. Like I did with Mitchell. | permalink
Gloria: Ta-da is for when you do a flip or where the magician cuts the pretty lady in half, not when you show someone where you want to shove their dead body. | permalink
Manny: She makes me feel like a fifth grader again. | permalink
Alex [to Haley]: Relax, more than half the eleventh grade has been in that sweater. | permalink
Claire: I had to undress a mannequin while a creepy guy filmed it, so we have that to look forward to on the Internet. | permalink
Matt Richenthal is the Editor in Chief of TV Fanatic. Follow him on Twitter and on Google+.