Despite the title of Modern Family this week, it wasn't really "Boys' Night."
Instead, it was classic pop culture night, as Nathan Lane reprised his very gay role of Pepper; Philip Baker Hall (yes, "Bookman" from Seinfeld) guest-starred as a neighbor who would frighten the child of Hannibal Lecter and Freddy Krueger; and jokes were made about everything from True Grit to Up to Frankie Valli to Rob Lowe.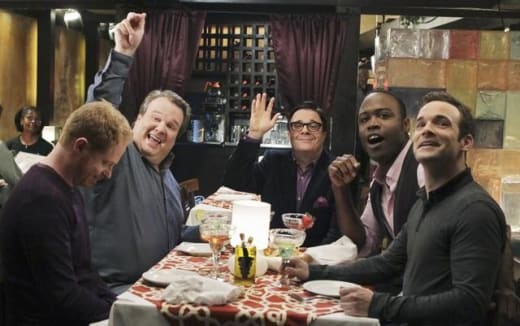 I didn't fall out off my sofa laughing at many of the one-liners, but I'm always a sucker for intelligent, subtle, well-placed references. This was like a less crazed episode of Community, which I mean as a giant compliment.
The only thing missing? A segment from Mitch and Cam in The Morning.
The best installments of
Modern Family
also often involve unexpected interactions between characters, and we were treated to a lot of that on "Boys' Night."
Trust me, I could watch Manny try to bond with Jay over topics such as "Hump Day" every week, but it was refreshing to see the latter get his extreme gay on and to watch Luke deal with someone unaccustomed to his unique viewpoint (and maturing tongue). It was also nice to have Dylan back in our lives for a few moments.
But can someone get that guy some shoes? Actually, nevermind. Maybe he'll write a song about being barefoot.
An enjoyable half hour all around, highlighted by the following Modern Family lines:
Jay: I'm gonna walk like a man... right to that bar. That would be hilarious if you were familiar with Frankie Valli. | permalink
Mitchell: When I was 12-years-old my father walked into my bedroom and caught me doing the most embarrassing thing that a boy can do: dancing to Madonna's 'Lucky Star.' | permalink
Phil: I love Westerns, the bloodier the better, that's my favorite type of movie - that and anything set against the backdrop of competitive cheerleading. | permalink
Haley: She had to take Alex to the oncologist... She needed new glasses. | permalink
Luke: I'm still growing into my tongue. | permalink
Manny: Hump day, am I right, Jay?
Jay: Your day ends at 2:30. | permalink
Claire: If Hannibal Lecter and Freddy Krueger had a lovechild, he would be afraid of our next-door neighbor. | permalink
Matt Richenthal is the Editor in Chief of TV Fanatic. Follow him on Twitter and on Google+.