I'm not really sure what to say about Fringe this week. After the last few outings, I was hoping for a lay-up, an easy review, one that leads us down the exciting path toward more outrageous reveals, such as those we've been privy to over the last couple of months.
What did I get? Well, I got "Os" - a title I still cannot grasp (and welcome your perspective in the comments) in the overall concept of what happened. I imagined it was going to be about the two Olivias. Wrong!
Walter spends a lot of time lately high as a kite, and we didn't have to wait more than 30 seconds for him to fulfill our wish again. Jorge Garcia made a cameo appearance as a security guard at Massive Dynamic and he and Walter busily smoke a bong while watching Massive Dynamic security cameras. That's when Walter discovers a strange, wooden door. William Bell's untouched office.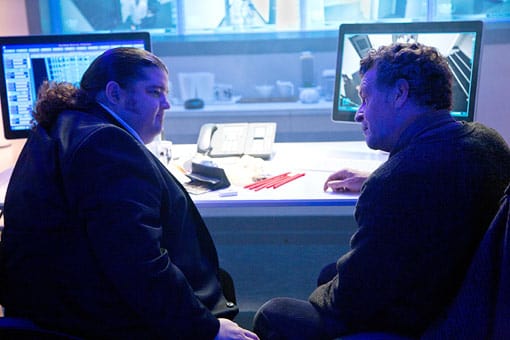 Peter and Olivia have gone full steam ahead with their romance, and everyone is pleased. Especially Nina, knowing how dire Peter's choice is to the survival of our universe. Outside her well wishes, she does keep the reasoning to herself.
Olivia is different. She's quicker with a smile, laughs, is more outgoing and open with her feelings. She and Peter are letting it all hang out, even holding hands while walking through the hallways. My initial reaction was that she was set free by love.
I was believing this happy little story until Walter discovers that two of the densest elements in the universe cause weightlessness, as proven by a doctor trying to find a cure for his son's muscular dystrophy. Walter realizes it isn't an accident that these elements reacted in an impossible way, but is due to the decaying fabric of our universe. Strange things are happening here, like they happen in the other universe. There is no way to ascertain what might happen at any given moment.
The entire scope of this episode comes to light in the last ten minutes. One of the files that Walter finds in William's office offers the possibility of reuniting the soul with a corporeal being. In a moment of genius, Walter realizes that William left behind everything he would need to bring his soul back, and he would entrust it to someone special. In this case, it is the very bell William left to Nina.
As Olivia and Peter are being brutally honest, Peter knows the only person in whom he can confide his greatest secret is Olivia. He takes her to his makeshift lab, where he is experimenting on the chips he assembled after killing the shape shifters. We barely have a moment with Olivia's reaction to this news when Walter rings William's bell.
In an instant, Olivia is no longer thinking about the incredible news Peter just shared with her, because she has been infused with the soul of William Bell. Again, Anna Torv shows her acting expertise by leaving no doubt the voice she is channeling is William's. At the expense of Olivia, William will be sticking around, at least for the next episode.
I'm sure we will have much to learn from his appearance, and I should have expected that the writers of Fringe would get us to this place in a most unexpected way. While my eyes were searching for clues in the case of the week, they were busily hoodwinking me and throwing me off balance. Well played!
Carissa Pavlica is the managing editor and a staff writer and critic for TV Fanatic. She's a member of the Critic's Choice Association, enjoys mentoring writers, cats, and passionately discussing the nuances of television and film. Follow her on Twitter and email her here at TV Fanatic.