It's the character issues on Fairly Legal that keep me tuning in and "Bridges" gave us plenty. The season finale had Kate Reed on an emotional roller coaster, with both her personal and professional lives left in shambles.
We started off with a shocking disclosure: Kate's home pregnancy test was positive. I couldn't wait to find out what implications that might have for Justin and Kate's on again, off again relationship. Unfortunately, the aftermath of this revelation wasn't pretty.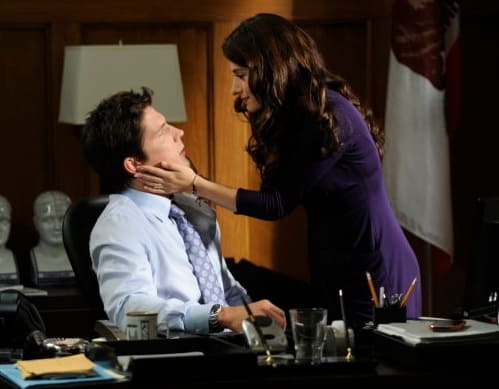 When Kate all but missed Justin's award ceremony, he was furious. He's mentioned this issue before. In his eyes Kate, always put her cases before their marriage. When he pushed Kate for an explanation, she blurted out that she was pregnant, then she took off to help mediate a case. Safe to assume Justin felt sucker punched.

Later, he showed up at Kate's office only to find out that the doctor called. The home test was incorrect. Kate's not pregnant. His previous anger was now laced with disappointment and he unloaded on Kate. They both looked so sad when he admitted that he spends half his time loving her and the other half wishing they'd never met. It was Kate's turn to look devastated.   
To say that Kate Reed was having a bad day was the epitome of understatement. Moments before Justin walked out, Lauren fired her. As much as I felt for Kate, I understood Lauren's fury. 
Kate kept David Smith's identity from her. That was information that held serious consequences for both of them. Kate could have shared that with Lauren. She could have extended an olive branch to her step-mother. Instead, she kept the secret and then taunted Lauren when the truth came out. I know Kate was reeling emotionally, having just found out she wasn't pregnant, but she still acted the role of the bratty step-daughter instead of a grown up, professional woman. If I were in Lauren's shoes, I might have fired her, too.
So we ended season one with Kate in need of a do over. Kate and Justin had great chemistry but a broken marriage. Kate and Lauren are smart women who could conquer the world if they could only learn to work together. What Kate failed to realize was that her personal relationships needed the same commitment and understanding that she gave her clients. 
We saw Kate all season giving her best to her clients and frequently acting immature and sometimes selfish with those she loved. Even though her flaws make her interesting, I sincerely hope season two brings us a more grown up Kate Reed.  
C. Orlando is a TV Fanatic Staff Writer. Follow her on Twitter.