It takes a con to catch a con. That's the premise of Breakout Kings, as it's filled with characters looking for a second chance.
Coming from the producers of Prison Break, I was expecting more seriousness from this A&E series. Delightfully, what I found in the pilot episode was a procedural that laced its story with quick dialogue and edgy humor.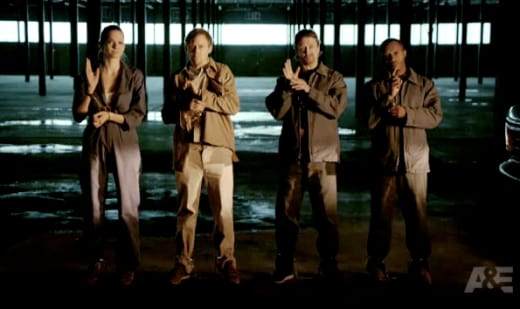 In a nutshell, the U.S. Marshals offer a deal to some of their most difficult to catch fugitives. If they help them catch fugitives on the run, they will get moved to a minimum security prison and get one month knocked off their time for each criminal caught. If they try to escape or step out of line, they're sentences get doubled.
We learn more about the characters' personalities than their crimes here. Dr. Lloyd Lowery is the creepiest con of the bunch. He has the least physical prowess but can analyze his fellow cons and other criminals in a way that reminds me of Patrick Jane in
The Mentalist
. Still he is far more disturbing. He's a former child prodigy, behaviorist, professor, a gambler with Mommy issues, and is doing 25 years behind bars. We aren't told what he did to deserve that sentence and I look forward to finding out the rest of his story.
Shea comes across as the smart, charming bad boy of this group. He's the street smarts to Lowery's book smarts. Although I liked Philly, the former Miss Idaho con artist, it looks like she's only around for the pilot; a new female con takes her place next week.
The two Marshals also left me with lots of questions. Charlie's a former Marine and specializes in Criminal Program Analysis. He's been behind a desk for years and although we aren't told why, we see him taking mystery pills in the bathroom. Charlie is the by-the-book guy and makes it very clear he's the man in charge.
Ray is a bit of a mystery. He's definitely the bend-the-rules type and this entire rag tag team was his brainchild. But at the end of the episode, we find out he's living in a halfway house and he was busted for taking money from a perp to buy his daughter a car. Can you still work in law enforcement if you've committed a crime? I'm a little fuzzy on Ray's status and I hope they clear that up in the coming weeks.
Overall, the
Breakout Kings
pilot did what it needed to do. It gave me an interesting story with intriguing characters. This fun, fast-paced hour left me wanting to know more and I'll definitely tune back in next week.
C. Orlando is a TV Fanatic Staff Writer. Follow her on Twitter.