The Mentalist went prospecting for gold this week and, just like in the Wild, Wild, West people got killed for it.  At $1,300 an ounce, that shouldn't be surprising.
A plot contrivance on "Red Gold" found Jane paired with Hightower, as Lisbon sprained her ankle. The event that caused her injury felt fabricated to me. Are we to believe that the beauty of the great outdoors had Jane so manic that he started a mini riot? It bothered me that he never offered her an apology and didn't even ask about Lisbon when Hightower showed up.
In many ways, Lisbon is his partner. I know it wasn't life or death, but it would have been nice to have seen Jane show a little concern for her well being.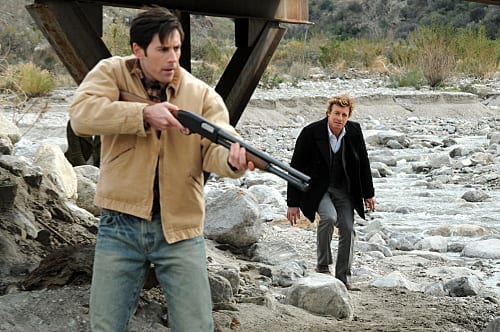 No matter how she got there, I found Hightower in the field to be a nice change of pace. It gave the show the chance to humanize a character we know very little about.
It allowed Jane the opportunity to pry into her life whether she liked it or not, especially once her husband unexpectedly dropped their children off at CBI. Lisbon babysat while Jane informed Hightower of the office gossip concerning her pending divorce.
Hightower was having a seriously bad day and that wasn't about to end. When Dean took Jane hostage at gunpoint, she pulled a Terminator and walked directly into the line of fire. She managed to shoot Dean in the leg and when he dropped Jane, but not his gun, she shot him in the chest and killed him. Very well done.
I loved Jane's shocked expression. For a man who hates guns, he looked as though he'd gotten way too close to the action.
On a complete side note, did anyone else notice Hightower's jackets? I don't normally focus on clothing, but I loved the two jackets she wore. Or perhaps it was just how they contrasted with all of the secondary characters in plaid shirts.
The rest of our team didn't get a lot of air time, but Cho was wonderful in his interrogations. His dry wit and deadpan delivery left me wanting more.
Grace got knocked on her butt by a suspect. I know there's no way to be prepared for every scenario, but it felt like she should have been ready for a fight. This guy was a known criminal and possible murder suspect, not some guy to flirt with at the bar.
There was no mention of Van Pelt's engagement to O'Loughlin. We also got a reprieve from the Todd Johnson murder investigation and LaRoche... but that might not last long. Safe to assume it will pick up again next week.
C. Orlando is a TV Fanatic Staff Writer. Follow her on Twitter.