Ok, everyone, we can all take a big sigh of relief; Jet and Cord survived the first leg.  Everyone ready?  One, two, three…
Ahhhhh!
Heading in to this week's episode of The Amazing Race: Unfinished Business, the finale of a very long first leg, Jet and Cord were waaaaaay behind 10th place Kent and Vxysin.  The dating Goths themselves were told by Phil that they were waaaaay behind ninth place Mike and Mike.  Safe to say, things did not look good for everyone's favorite cowboys advancing to the second leg.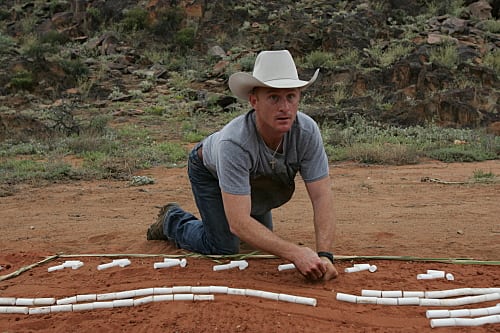 Despite the huge deficit, we received great news that after meeting Phil at the faux Pit Stop, the teams had to race to become one of six teams on the first flight or five teams on the second flight which departed 30 minutes later.  Hurray!  There's no way Jet and Cord can't catch up to at least four teams, right?  And, look!  Amanda and Kris are on that last flight and have a U-Turn to deal with.  Jet and Cord are still alive yet.
Would
The Amazing Race
producers let us off that easily?  Of course not.  Jet and Cord didn't help by continued their run of ineptitude when they were unable to solve the clue "To Sail, to Stop".  Cleverly, we're not told when the flights depart and as Jet and Cord's search continues in to the evening, worry starts to build that they won't even make their charter.
In vintage The Amazing Race fashion, the build up of drama is all for nothing.  The second flight departs at 6:30am the next day.  Based on daylight, they had at least twelve hours to figure out the clue, if not more.  Clearly they did not need all of the time and made it to the airport in plenty of time. 
Once on the second flight, Jet and Cord were no longer in the grave danger of being eliminated that they were to start the episode?  Is getting bailed out like they were fair?  On the surface it doesn't seem that way, but The Amazing Race has been designed to prevent huge leads and large deficits for many seasons now.  If this were an earlier, potentially fairer, season Jet and Cord would have easily been eliminated.
With everyone's favorite theme music safe, we can focus on the rest of the episode.  One of the best aspects of this first leg was how challenging the leg was.  Perhaps the challenges themselves were not as dynamic as they could have been, but the clues were phenomenal.  Catch phrases that are not easily found on the internet.  Finding a street corner using the Periodic Table.  These were both awesome clues.
I hope to see more clues that require thought and solving a puzzle of some sort going forward.  There seems to be an emphasis on making the season tough for the competitors because this is there second time around.  If the opening leg is a taste of what they have in store, we're in for a treat. 
Heading in to this season, I decided that I wanted to see either Ron and Christina or Amanda and Kris be eliminated first.  I've never been a big fan of Ron and Christina and Amanda and Kris simply ended up being my least favorite of the remaining ten.  Nothing about them has been particularly tough to watch, they're just not as interesting as the remaining teams.
However, as those two teams and Gary and Mallory headed to the Pit Stop, I found myself rooting for Amanda and Kris to defy the odds and catch one of those two.  Ron's assessment that Mallory is impulsive is right, but he was obviously wrong not to follow her.  For that reason, neither seemed deserving to stay in the race, but Amanda and Kris's performance was admirable.
Alas, it wasn't to be and Ron and Christina are on the top of my "I hope they go home next" list.  Margie and Luke and Kisha and Jen are also on that list, but very far away.  Neither Ron nor Christina is interesting people and they're both brutal to watch as teammates.
More thoughts from this week:
Zev is the current leader in the clubhouse for best quotes, but Jet is coming on strong.
Mallory is nuts.  I know I mentioned this earlier, but it bears repeating.  Nevertheless, I still can't dislike her.  She's so earnest; it's hard not to appreciate.
What age would be shocking to find out that Mike is?  They're a father son team, so you expect Mike to be younger.  However, Mike doesn't look young at all.  Yet, learning that he's 40, I think he looks young for 40.  Confusing.
Why did no one try the Natural World option?  What about Spirit World sounded faster than Natural World?
Have I mentioned that Mallory is crazy?