Sammy Bryant is back on the job. 
It's been six weeks since Nate's death and I'm feeling a little let down. The death scene of two weeks ago was so dramatic and unexpected that I couldn't wait to view the aftermath. But last week we got the mere mention of the funeral; and on "Cop or Not" we got a six-week time jump. 
I was hoping for more.  I didn't expect the show to dwell on it, but I would have appreciated a scene or two, perhaps of Sammy getting ready for the funeral or of the rest of the squad being informed of Nate's death.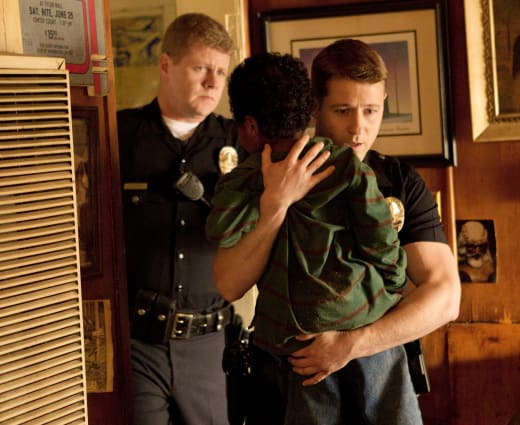 Not that there aren't consequences.  Having Nate's son ask Sammy if he was going to get killed like his dad was a heart wrenching moment.
This week, we find Sammy donning a uniform and riding with the Gang Unit. He's searching for Nate's killers. He bails out of the car and runs down someone he merely suspects was in the crowd when Nate died. Then, he tries to drown the man in a puddle of water.
I liked how Sammy's partner for the day tried to keep him under control, but it was a losing battle. When Sammy takes them both to the scene of Nate's death and threatens the gang members, it's as though he is trying to get them both killed. Thank God his partner called for backup early or there may have been a pipe with Sammy's name on it.
Who thinks Russell somehow stole Lydia's pictures and sold them to the press? That's my guess. He's desperate for money because of his divorce and even though they are good friends, Lydia turned him down when he asked for help. They were partners for a long time, so he probably knows she normally takes crime scene photos with her cell phone and downloads them to her computer.  I'm not sure how he downloaded them without her knowledge but desperation can breed creativity. If I'm right, their friendship will never survive.
Did anyone else catch the explanation about the photos? They said they knew the photos came from a smart phone because they are a higher resolution.  I would have hoped the police crime scene photographers would have better equipment than my smart phone.
Were 3,900 cops really called out when Michael Jackson died?  If John's facts are correct, that number is amazing. And if it's true, it is even more remarkable that there was no crime in South Central during the funeral.
And what was with the theme this week of children having to watch their parent or care giver die? First, the two girls at the celebrity murder see their mom beheaded in their backyard; then, there was the poor boy in the house with his grandfather who died of a heart attack.  The look on that little boy's face at the end really broke my heart - but this is Southland. It will do that to you.
C. Orlando is a TV Fanatic Staff Writer. Follow her on Twitter.