This was an intense episode of Private Practice in far too many ways.
For much of "Blind Love," we were focused on Charlotte, hoping she would have a breakthrough now that she was face-to-face with Lee McHenry, the man who so violently raped her (in her own hospital, no less). 
Charlotte's a spitfire, but a big part of her was shattered by McHenry. He broke her into a million pieces, and she spent a long time trying to get over it.
Charlotte had her day in court, so to speak. McHenry was on King's turf, with a knife in his heart and his life at the mercy of doctors who suffered through this devastating event with Charlotte.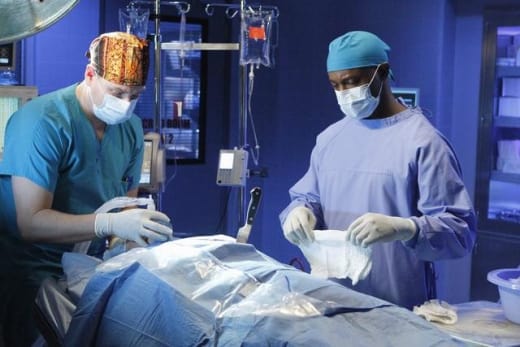 The Oceanside Wellness group has had to deal with a few "should we save the patient or not" dilemmas in the past few years, the most recent being the man who killed Dell in a car accident. 
While it's so easy to see things in "black and white" as Charlotte put it, as a doctor there is an ethical standard you have to stick by, whether the patient deserves to live or not.
Sam was faced with this last night, and left it up to Charlotte to decide if Lee should live. While I respect Sam's loyalty to Charlotte, I can't agree with his decision to put McHenry's life on the table.
Yes, what McHenry did was despicable and unforgivable. But if we're going to think in black and white terms, deciding whether to save him or not based on his actions is wrong.
Ultimately, Sam came to his senses: "To let a man die, no matter how bad he is, is wrong." Sheldon, the voice of reason, silently thanked his stars that someone was listening to him: "You're right, Sam. That is what we do." 
Having watched Charlotte try to rebuild her life after the rape incident, I was so proud of her for marching into the OR to give McHenry a what-for, then to be the first person he saw after waking up from surgery.  "You've got no power over me," she told him. "I am not afraid of you."
Damn straight! We've got a pulse on Charlotte King. Sassy pants is back!
Addison obeyed Susan's wishes regarding DNR, but Susan failed to loop Busy in on the big decision; one that would determine the rest of Bizzy's life. I don't know how to address this issue without pissing off a lot of people, but I will say this: Addison did as Susan requested, and she can't second-guess her decision. She was faced with a huge responsibility, and risked ruining an already unstable relationship with her mother. 
Bizzy was an unhappy lady from the start, and to lose the only person she ever loved (PS, I believe she stated that on more than one occasion to her daughter) made me nervous for her.
When Bizzy refused Addison's offer to spend the night in the hotel before she went back home, I knew something bad was going to happen. My heart sank as soon as I realized it. So when Addison changed her mind a few hours later and went back to the hotel room, I couldn't help but tear up a little thinking about the relationship she was hoping to develop with Bizzy.
Even at the end, Bizzy made sure even the help wasn't put out by her actions, telling Addison in a note, "The money is for housekeeping. Apologize to them for the inconvenience."
A few particularly memorable quotes and moments:
It was too perfect when McHenry was brought into St. Ambrose's ER with a knife in his heart. "Please don't let me die," he begged Sam. This caused quite the moral dilemma. "Who would care?" Charlotte asked Sam. 
I wanted to rip that knife from McHenry when he picked up that Sam was friends with Charlotte, "You're friends with her," McHenry said to Sam. "Yeah," said Sam shortly. 
"Do you really not understand or do you just need to blame someone for what happened?" Addison asked Bizzy in the hospital chapel.
When Dr. Rodriguez smiles and shows those pearly white teeth, I get a little weak. Why is he so handsome?
"Go home. Go home to Sam. He's a nice guy. Stick to him," Bizzy said to Addison before they parted ways. I burst into tears after writing down this quote. 
This was a tough episode. What did you think of last night's Private Practice? Discuss!