Fight for what you want. – Nikita

All I can say is this: thank God Percy wasn't the one debriefing Alex and reviewing the mission tapes.
On "Coup de Grace this week, we saw another couple reunited, thanks to Nikita and Alex. If anyone knows about not giving up on someone you love, it's Nikita. I wasn't sure if she was right about letting Prince Eric talk to Lila, but since he said he trusted her with his life, Nikita allowed it. How big of a bitch was that wife? I'm glad Alex got a good punch in.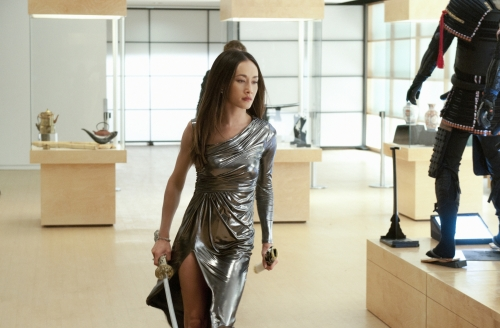 Unfortunately, every time Nikita reunites a couple, she looks like she's been stabbed in the heart. Due to the death of Daniel, you can see she has an exceptional soft spot for people doing everything they can to protect their loved ones. I can imagine how much it hurt her to find out that man's wife was having him killed just for money and status?

I just love how Alex lets Nikita know what's going down all in code, right in front of Division, without their suspicion.

One second Alex asks Nikita "you okay?" and the next "you listen, bitch," all whilse Division views her as a hero. Earlier in the episode, I said to myself: You can tell by Michaels face when he looks at Alex that he knows she's up to something. Sure enough, during the last scene of the episode, he saw Alex asking Nikita where she was. I wonder what he is going to do with that information?

All Mikita shippers, myself included, surely let out a sigh of relief when Michael gave Nikita the look we've missed. He had the opportunity to take her out and passed. I was really feeling their loaded looks at each other. Here's hoping there's still a chance for them. I did note that Fletcher wasn't present tonight, as well.

What did you think TV Fanatics?

Tags: Nikita, Reviews