Jersey Shore Review: "The Great Depression"
Steve Marsi at .
Coming into the third season of Jersey Shore, The Situation promised fun, hilarious times ahead. That was true last night more than ever before, with the absence of Sammi.
Sam's presence was still felt, of course, by the grieving Ronnie, who vows to win her back. This guy is seriously nuts. She makes you go postal and you want to win her back?
When Sammi does return, the same old drama will likely return, but last night's episode, despite being called "The Great Depression," was more laid back than recent ones.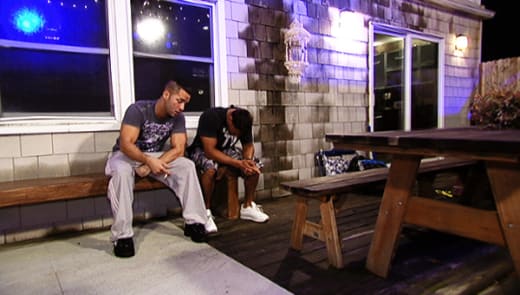 Mike and Ronnie talk about feelings. And say "bro" a lot.
A brief rundown of events:
Sammi breaks down as she tells her mother about her fight with Ronnie, while back in Seaside, The Situation consoles Ronnie, who is depressed without Sammi.
Moving on, thankfully, Vinny retaliates after Snooki and Deena start a prank war by hanging Snooki's beloved stuffed crocodile off the balcony. Snooki is pissed.
JWoww becomes disgusted after watching Vinny try to unclog the toilet, while Situation races against Pauly D, Snooki and Deena on the boardwalk to blow off steam.
Pauly D finds a pair of dirty underwear in the bathroom, which is gross, while Snooki tells Ronnie he's delusional after he promises again to win Sammi back.
The Situation attempts to hook up with Pauly D's ex-girlfriend, with mixed results. Snooki hits it off with a guy at the club, while Deena has a breakdown.
She considers leaving the shore house but it's Ronnie who talks her into staying. Hey, you gotta stand tall despite all the crap this place throws at you.
Vinny, Pauly D and Ronnie crash Snooki's hook-up session in the Smash Room, but later, Vinny ends up on the receiving end of that joke thanks to Mike.
Good episode. Lots of fun scenes, not as much domestic violence. It's hard to find that balance when you're Jersey Shore. Quotes and one-liners to come!
Steve Marsi is the Managing Editor of TV Fanatic. Follow him on Google+ or email him here.